★★★★★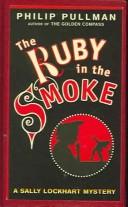 ISBN: 9780844672304
Publisher: Peter Smith Pub Inc 2002
Pages: Links: WorldCat • LibraryThing • Google Books • BookFinder
The first in the Sally Lockhart series, this events of this book begin in 1872. Pullman begins with "Her name was Sally Lockhart; and within fifteen minutes, she was going to kill a man."
Sixteen-year-old Veronica Beatrice "Sally" Lockhart receives a note in the mail and visits her father's partner, Samuel Selby, to ask what it note means. Instead she meets Mr. Higgs, Mr. Selby's secretary, and asks him two things: did he know of a man named Marchbanks, and has he ever had heard of something called the "Seven Blessings". The moment he hears the latter, Mr. Higgs has a heart attack and dies. Sally tells the porter and in the process she meets a thirteen-year-old office boy named Jim Taylor to whom she shows the letter. Jim offers to help her, and Sally goes back to her aunt's house, where she lives.
The story progresses on Victorian murder-mystery lines, as Sally visits Mr. Marchbanks who gives her a book to clear up the mystery, runs away from a mysterious woman who follows her, meets a young photographer who helps her, and gets on a train and starts to read the book. She falls asleep and when she wakes up the book is gone and the only thing left behind are a few loose pages. The story goes on fairly realistically, and you are tempted to keep turning pages.
Worth a read.
"To be honest, I've always been a bookworm. So I've turned my love of books into a design career that I enjoy."
A book designer, Arati has always enjoyed books and the world of imagination that they open up. She is extremely accident-prone, due entirely to absent-mindedness caused by thinking about books and their contents, instead of paying attention to what she's actually supposed to be doing. She reads multiple books simultaneously, and her choices range from cookbooks and design manuals to fantasy, crime and Regency romances.
She lives and works in London, UK and sells her art on paper and textiles at
Etsy
Latest posts by Arati Devasher (see all)