★★★★★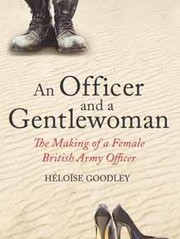 ISBN: 9781780330044
Publisher: Constable 2012
Pages: 260 Links: WorldCat • LibraryThing • Google Books • BookFinder
I bought this as an e-book on an impulse – motivated purely by the title!, being an officer and a gentleman in the traditional usage of the term. I started reading it out of curiosity and was immediately captivated and carried on almost non-stop till I finished it.
Capt. Goodley has a fine turn of phrase and her language is appealing to everyone, even though her vocabulary does indicate her public school and university background. But she also exhibits that she is conversant with the earthy too.
Her story will interest everyone in the armed forces and everyone who has some friend or family member in the forces. Apart from the gripping narrative of her life at Sandhurst for a year, she also explores her motivation for this kind of life and invites readers to examine their present chosen career and determine whether it is really what they want.
Her induction to the routine of a cadet is not easy and she is frank about her disenchantment with the mindless tasks and drill she is put through… but slowly she also reveals how these very same mind-strangling, mundane and irritating goals set by the staff strengthen her mind, cement her resolve and makes her appreciate the value of a team.
Definitely a book to own and re-read every once in a while.
"I do not know when I became addicted to books – of all genres – but as far as I can remember, I have always had a few books kept in reserve, apart from the one I was currently reading.It would be a great tragedy for me if I were to run out of material to read… that would be my concept of hell. In today's world I am truly ecstatic that my reach has multiplied a million-fold with ebooks galore and dropbox can sync my reading across my devices!"

Ram Subramanyam was commissioned in 1965 as a Bombay Sapper in the Indian Army, and has seen service in all parts of India. Having done his staff course in Camberley, UK, he has been a brigade major, a director in the military operations directorate, an instructor in the Defence Services Staff College, College of Military Engineering and the National Defence College, and been part of a training team setting up a staff college in Tanzania. He gained expertise in the Indian deserts, having commanded a brigade, division and corps on the western front. His last appointment prior to retirement was Army Commander, Central Command. He is a keen sportsman and an avid reader.
Latest posts by Ram Subramanyam (see all)