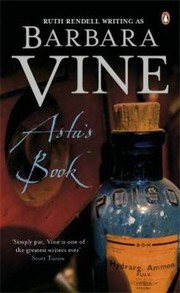 Links: WorldCat • LibraryThing • Google Books • BookFinder
The eponymous book in the title comprises a set of diaries penned by Danish immigrant Asta, chronicling her move to London in 1905 along with her husband Rasmus, and the 60 years that follow. When the book opens, Asta is 25 and pregnant with her fourth child, whom she dearly hopes will be a girl. Many years later, these diaries are discovered by her daughter Swanny (Swanhilde), translated and published.
As their editor and holder, Swanny gains significant fame and the books develop an unexpected fan following. The story then shifts to the perspective of Ann Easterbrook, Asta's grand-daughter and Swanny's niece. On Swanny's death, Ann inherits the house, the diaries, and along with them, some deep, dark family secrets. As she delves deeper into the books, Ann is intrigued by the mysteries she unearths – why are there 5 pages torn out of one of the early diaries? Is there any connection between them and Swanny's parentage? Do those pages help explain Swanny's radical split personality in later years?
And how, if at all, is any of this connected with the notorious, unsolved murder of Lizzie Roper, one of Asta's neighbours.
Vine writes a complex, deeply involved book with meticulously developed characters, family trees and settings. The atmosphere rises off the page – we can almost feel the stifling heat, see the protagonists' clothes, hear their voices and follow their routes in Hackney.
The book is part murder mystery, part social commentary, part story-within-a-story. Asta does not necessarily come across as a very likeable character, but her views on maternity, marriage and morality are very telling of the times, and make fascinating reading as a diary of an Edwardian Woman.
'Asta's Book' is a typical Barbara Vine/ Ruth Rendell novel – intricate and gripping.
Don't start reading this at 9pm on a weeknight – you're bound to go into work the next day with panda eyes!
"I'm a confessed bookaholic, but haven't had the nerve (or ingenuity) to make a career out of that. So I do the next best thing - I spend my free time reading, buying, borrowing and discussing books... and books about books."

Maya always has three books going at the same time - a different book for every mood. She loves exploring new authors, but every now and then she sinks back into the comfort of old favourites like murder mysteries and Regency romances. A corporate butterfly, Maya lives and works in Bangalore, India.
Latest posts by Maya Chandrasekaran (see all)