★★★★★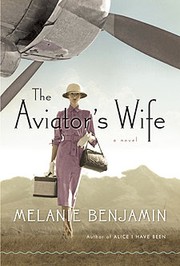 ISBN: 9780345528681
Publisher: Bantam 2013
Pages: 448 Links: WorldCat • LibraryThing • Google Books • BookFinder
The Aviator's Wife is the fictionalized story of the marriage of Charles Lindbergh and his wife Anne Morrow Lindbergh, as told by Anne. Charles Lindbergh was one of the greatest heroes of the century and the shy, introspective Anne lived in the shadow of his dominant personality, saw the world through his goggles and supported his views though they may be contrary to her own. " Charles was the wind that blew me hither and yon, that lifted me off this earth, kept me aloft, pulled me along like a helpless kite, but also gave me wings with which I could touch the sun".
On the one hand her life was magical. She was married to a hero many women would have given everything to marry, she met Presidents and Astronauts others only saw pictures of, she had several gorgeous homes and six beautiful children.
On the other hand however, she endured a great deal of pain. She was hounded by the press, lost her first born to a kidnapping, spent much time alone while her husband travelled all over the world, lived in the shadow not only of her domineering husband but before that played second fiddle to a strong mother and much admired sister and finally she faced the hurt and humiliation of realizing that her husband had been unfaithful to her and their children. She spends most of her life either as the Ambassador's daughter or the Aviator's wife. In Benjamin's novel we see her come into her own. The women's liberation movement likely grew out of the efforts and struggles of women like Anne.
I saw her dying mother's advice to Anne as possibly a turning point in Anne's life "you need to stop looking for heroes, Anne. Only the weak need heroes and the heroes need those around them to remain weak. You are not weak."
In the course of the novel, the reader watches Anne grow. She is more than a daughter, wife and mother. She is a remarkable person in her own right. She is an intellectual, lover of literature, art and music. She is intelligent and resilient. She was the first woman to earn a glider pilot's license, she learns to navigate in the skies and becomes a published and much admired author. I am grateful to Melanie Benjamin for telling Anne's story.
Lindbergh is portrayed as a hero, and we, like Anne admire him for his bravery, his astonishing daring and extraordinary achievement but he is a very flawed character, controlling, self centred and manipulating. The book is very interesting as it includes several factual details of the life of the Lindberghs, the kidnapping of their child, their disappointment with how the press in America treated them, their move to England, Lindbergh's association with Germany, his anti Semitic and isolationist views during the war, their visit with the Apollo astronauts prior to take off. The novel is not just the story of the marriage of this famous couple but also a record of the political and social history of the times. It is the story of a woman shedding her dependency and coming into her own. In the last year I have read several books about women married to famous and difficult men – Loving Frank, The Paris Wife and now The Aviator's Wife. All of them give the reader an insight into the minds and personalities of these tremendously talented and successful men but also show how difficult they must have been to live with. The books allow us to get to know the strong women who shared their lives, and we get a glimpse into the times they lived in… a great way to learn history.
"Books have entertained me, kept me company, taught me, counselled me, introduced me to wonderful people... what else can one ask of a best friend?"

Geetha`s love of books began when she was a child. She later turned that love into formal education with a Masters in English Literature and then again into a career for a few years, teaching English at Ethiraj and Fergusson Colleges in India. Though her career took her into the computer industry, Geetha has continued to read both individually as well as part of a book club in Newmarket, Canada where she lives.
Latest posts by Geetha Kulkarni (see all)