★★★★★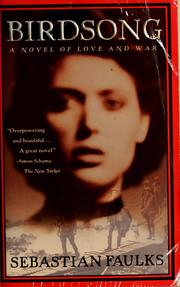 ISBN: 0679776818
Publisher: Vintage Books 1997
Pages: 483 Links: WorldCat • Read Online • LibraryThing • Google Books • BookFinder
Amiens (France) 1910. We are introduced to 21 year old Stephen Wraysford, a callow but passionate young Englishman, sent to Amiens to understand the textlies industry there better. While there, he stays as a paying guest with a local businessmen, Rene Azaire. Early into his interaction with Azaire's family, Stephen is intrigued by his elegant, luminescent wife, Isabelle. Very quickly this interest turns into a passionate love affair between the young Englishman and his older hostess.
Matters are finally precipitated to a point where they throw in their lot together, confess their affair and run away. The novel then traces Stephen's story through the next decade, and his involvement in what was later called The Great War. While the bulk of the novel is written from the view point of Stephen, the book also steps back occasionally to focus on his grand-daughter Elizabeth Benson. Living in 1970s England, Elizabeth is drawn to sudden curiosity about WWI and her grandfather's part in it. In these sections, we follow her investigations into the past, as well as her attempts to make a future for herself with her married lover, Robert.
While the love scenes between Stephen and Isabelle are the more passionate, those between this other couple – Elizabeth and Robert – are equally poignant, if far more subdued.
This novel is deeply involved, with scores of characters and personalities. The author imbues every character, whether central or peripheral with enough background to create a history and affinity in the readers' hearts. At the same time, the depiction of pivotal characters like Stephen, Isabelle and Elizabeth is realistic enough to avoid rose-tinted idealism – we see them for the flawed human beings that they are. Faulks has a light hand when it comes to portraying idiosyncracies, describing people, portraying multi-hued relationships and building conversations.
In keeping with the realism of the rest of the book the sections set during the fighting are harsh and unreconstructed. No attempt is made to idealise or prettify the conflict – we are shown combat on the front complete with fear, disillusionment, sweat and lice. Faulks' prose is elegant, impressive and wonderfully evocative. On the whole, he manages to steer clear of excessive sentimentality.
Deeply engaging, engrossing, all-encomapssing..to my mind, 'Birdsong' is a brilliant rendering of WWI fiction and though not always a light read, is highly recommended.
"I'm a confessed bookaholic, but haven't had the nerve (or ingenuity) to make a career out of that. So I do the next best thing - I spend my free time reading, buying, borrowing and discussing books... and books about books."

Maya always has three books going at the same time - a different book for every mood. She loves exploring new authors, but every now and then she sinks back into the comfort of old favourites like murder mysteries and Regency romances. A corporate butterfly, Maya lives and works in Bangalore, India.
Latest posts by Maya Chandrasekaran (see all)