★★★★★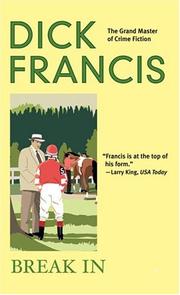 ISBN: 9780425199930
Publisher: Berkley 2005
Pages: 320 Links: WorldCat • Read Online • LibraryThing • Google Books • BookFinder
As described in a previous review, the best Dick Francis books follow more or less the same pattern. A young, unassuming, yet extremely talented hero pitted against evil forces out to destroy him and his work. Break In is set more in the racing world than anywhere, and Kit Fielding, the narrator/protagonist is the Champion Jockey, i.e the best jockey in the country. While Kit is strong, decisive with a hard-headed sort of practical intelligence, his twin sister Holly, is the opposite. While telepathic as children, the twins can now have premonitions if the other is particularly upset.
Kit rides primarily for a stable that has one particularly impressive owner, the Princess Casilia from the old pre-republic part of DeBrescou in France. She and Kit share a professional relationship, tempered by Kit's respect and appreciation and the Princesses genuine affection for her jockey. When an extremely upset Holly arrives at the races, Kit deliberately asks her not to talk to him, just yet, as the major race – The Towncrier Trophy – was about to start. Kit, riding North Wind, one of Princess Casilia's most temperamental but also fastest horse. When he chooses to run, Kit says, he really lives up to his name. However, he has a disastrous start, left standing at the posts. they begin to ride deliberately casually, the horse deliberately mis stepping with a malicious gleam in his eyes. After a couple of jumps, Kit straightened over the horse and looks him directly in the eyes. North Face blinks, wakes up and begins to race. Really race.
In the meantime, Holly, upset by the sudden rise of the odds against her brother, stakes 20 pounds on him at 10 to 1, in a spontaneous display of filial affection. North Face does win, barely, a nose ahead of the horse that had been the front-runner throughout the Towncrier Trophy race. Owned by Lord Vaughnley, the Towncrier was a racing newspaper, and one of the best and most respected in its field. Unlike the Daily Flag, which delights in the sordid, dirty, and downright nasty in its own paper. At the ceremony, Kit meets Lord and Lady Vaughnley, but doesn't see their son Hugh, who is fenerally a fixture at events like this. Mentally shrugging all this off, Kit leaves to find Holly, and wondering what could have upset her enough to drive to Cheltenham.
Heading back, Holly shows Kit a copy of the Daily Flag, which in its "Intimate Details" section has a box, outlined and printed in red, that accuses Bobby Allardeck (Holly's husband) of borrowing beyond his means, defaulting on his payments, and still deeply in debt.A perplexed Kit ponders the reasons behind such an attack. Was it simply the usual spite of the Flag, or something more orchestrated? Mulling this over, Kit and Holly reach home to find Bobby in a furrious altercation with one of his owners who intended to take his horses away without paying his bill, an unfortunate but common practice. Sorting this out provides the back ground to the main subject story, which in this particular book is family. Or a family feud, to be more accurate.
Francis creates a Montague-Capulet type feud set in 20th century horse racing England. With a rivalry that dated back to the time of Charles II, Holly and Bobby become the star crossed lovers who unite the two families and live together happily ever after. Unfortuntely, life isn't like that. While Kit, and to a lesser extent his grandfather, accept that Holly made her own choice, Maynard Allardeck – Bobby's father – refuses to. In fact, he makes Bobby pay full duty and all the taxes on the stables he runs which should rightfully have been his by way of inheritance, leaving him deeply in debt, and particularly vulnerable to accusations of bankruptcy. After some confrontations and digging around, while simultaneously riding 4 winners on a single day and getting introduced to Danielle, the Princess's beautiful and accomplished news producer niece, Kit discovers that the newspaper attacks are aimed primarily at Maynard Allardeck, in order to stop him from receiving…well, something he dearly wants. The rest of the book is devoted to how he gets the girl, foils the villains, gets tortured, and rides some more winners. Typical Dick Francis, in other words.
So we have the Francis formula again, the pretty girl, the dastardly if forgettable villain, torture, and an insider's look into professional racing. the story becomes inevitable after a point, but the joy of reading Dick Francis is not for the twist in the tale. It's found in the felicity of style that he wields with such accomplishment, a master craftsman at the height of his powers. Francis, like his jockeys and horses, is in top form here. Highly recommended, and definitely in my top three Dick Francis favourites.
"Bibliophilia, or more realistically Bookaholism runs in my genetic make-up. I've grown up being read to, reading, and surrounded by books."

From Bangalore but based primarily in New Delhi, India, Samir has variously been and continues to be a professional musician, a pub quiz host, a political campaign aide, and a student of the guitar, as well as history and international relations. He is currently Research Director for the Global Security Centre in India. He is also a freelance editor and research consultant, having worked for the Ministry of Overseas Indian Affairs, the Public Health Foundation of India, and a McKinsey-IBM KPO, as well as Random House and Oxford University Press. He can be contacted at samirkrishnamurti@gmail.com
Latest posts by Samir Krishnamurti (see all)