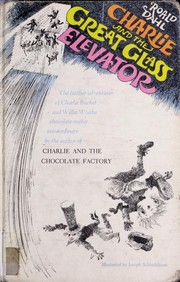 Links: WorldCat • Read Online • LibraryThing • Google Books • BookFinder
Charlie and the Great Glass Elevator (CGGE) is the only one of Roald Dahl's children's books that didn't find its way into a film or television adaptation. The reason for that was because Dahl disliked the film adaptation of Charlie and the Chocolate Factory (the 1974 one with Gene Wilder) so much that he refused to give permission for its sequel to be turned into a film. In fact, he was so adamant about this that he made a condition of the bequeathment of the rights to the foundation that inherited his estate that it never be turned into a movie. Despite repeated pleas from Warner Brothers, his estate, controlled by his wife Felicity, remained adamant. Eventually, they relented, allowing Tim Burton to direct the 2005 remake of Charlie and the Chocolate Factory, having considered Nicholas Cage, Brad Pitt, Will Smith and Adam Sandler for the role of Willy Wonka before settling on Johnny Depp. CGGE, however, still remains only on storyboards.
Should CatGGE never make its way onto the screen it'd be a real pity because it not only has some brilliant scenes set in outer space, set around a battle over a transcontinental space hotel between American astronauts, a race of evil Vermicious Knids, and our heroes who accidentally wind up in orbit while trying to attempt a re-entry  in the Great Glass Elevator -, it also explores the actual factory in more detail. In fact, when Willy Wonka takes Charlie to rescue his accidentally minus-ed old grandma from the Gnoolies of Minusland, he tells Charlie that the tour they got in the first book was just the tip of the iceberg, the atual tour of the whole thing would take three weeks. The book also introduces us to the rest of the Bucket family, most of whom played only a peripheral role in Charlie and the Chocolate Factory. And there's so much more, the creation of Wonka Vite (the pill that makes you twenty years younger), the crazy American president, Gilligrass and his loony staff, the cantankerous old grandparents, and, of course, enough crazy Wonka-isms and Oompa Loompa songs to make you cackle, snort, and laugh out loud all the way through it.
In my last few reviews, I've tried to avoid my usual summation of the plot, concentrating mostly on the critical elements. But with it fizzing around and popping off much like the eponymous elevator in my head, I'm tempted to dive on in. But, since most of you are probably busy people without enough time to read the review, let alone the actual book, let me just make a plea to any and all the parents out there with pre-pubescent kids, please, get this book for them. They'll absolutely love it. If your kids are younger, get it and read it to them. It's even more wild, wacky and weirdly wonderful than its predecessor. If you've never read it before, I urge you, get stuck in. I promise you won't regret it.
"Bibliophilia, or more realistically Bookaholism runs in my genetic make-up. I've grown up being read to, reading, and surrounded by books."

From Bangalore but based primarily in New Delhi, India, Samir has variously been and continues to be a professional musician, a pub quiz host, a political campaign aide, and a student of the guitar, as well as history and international relations. He is currently Research Director for the Global Security Centre in India. He is also a freelance editor and research consultant, having worked for the Ministry of Overseas Indian Affairs, the Public Health Foundation of India, and a McKinsey-IBM KPO, as well as Random House and Oxford University Press. He can be contacted at samirkrishnamurti@gmail.com
Latest posts by Samir Krishnamurti (see all)