★★★★★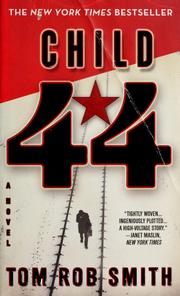 ISBN: 9780446402392
Publisher: Grand Central Pub. 2009
Pages: 509 Links: WorldCat • Read Online • LibraryThing • Google Books • BookFinder
Let me start by saying that this book post is nothing like my previous one. That one was sweet and funny and an easy ride. This book is darker, stark, horrific and a page turner.
Set in Stalin's Russia (but the latter part of Stalin's control) the story is about an MGB officer, Leo Demidov, and his quest to solve a series of vile child murders. His investigation is hindered by the fact that, for political reasons, the police system won't even admit that these are the work of a serial killer. For the sake of expediency, and to maintain the facade that Stalin's Russia is crime-free, each of thse killings is treated as an aberration. As a result, Leo and his wife Raisa, become fugitives in their search for the truth.
Yes, I know, supremely cheesy (and it sounds very much like it could be made into a Hollywood blockbuster starring Matt Damon) but somehow, it's better than the cliches. The book is a murder mystery, a thriller, a love story and even a little histoy lesson. The writing is competent, but by no means outstanding. What I loved about this book though, was the picture it painted of communist Russia and the bleak, tense lives of its denizens. I enjoyed the historical anchoring and the political commentary on a society I otherwise knew little about. I also liked Smith's portrayal of his characters and their motivations – even the protagonist Leo is no hero. And of course, being a sucker for murder mysteries, I had to read this right through to the denouement.
I have to admit feelings of ambivalence for the end of the book – I'm not sure if I agree with the choice of murderer and motivation – but I won't say anymore and spoil it for the rest of you.
Overall – it wasn't always an easy book to read, sometimes quite disturbing, but I couldn't put it down all the same.
"I'm a confessed bookaholic, but haven't had the nerve (or ingenuity) to make a career out of that. So I do the next best thing - I spend my free time reading, buying, borrowing and discussing books... and books about books."

Maya always has three books going at the same time - a different book for every mood. She loves exploring new authors, but every now and then she sinks back into the comfort of old favourites like murder mysteries and Regency romances. A corporate butterfly, Maya lives and works in Bangalore, India.
Latest posts by Maya Chandrasekaran (see all)