★★★★★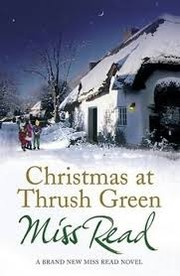 ISBN: 9781409101598
Publisher: Orion Books 2009
Pages: 343 Links: WorldCat • LibraryThing • Google Books • BookFinder
'The villagers of Thrush Green celebrate Christmas in a way that has hardly changed over the generations. Children eagerly hang up their stockings, families go to church together, everyone enjoys Christmas cake and other treats of the festive season.'
Thrush Green is a quaint village set around a village green and the village church, around which the village's activities abound over the Christmas season. Phil Hurst and her journalist husband Frank set about running the annual nativity play. Albert Piggot the church caretaker decides upon retirement. His wife Nelly's tea room The Fuschia Bush, gains widespread acclaim. Ella deals with slowly losing her sight, aided by her friend and onetime housemate Dimity Henstock. Oh, and let's not forget the very naff Burwells, with their gaudy tastes and tacky Christmas decorations – and the antagonism of the local architect, who is deeply offended by their lack of taste! And then, as if there wasn't enough happening, there's an outbreak of chicken pox.
Miss Read, best known for her stories set in the villages of Fairacre and Thrush Green, is a pseudonym of the author. As with the earlier book by Miss Read that I reviewed, this book is ideal for those who love the nostalgia of life in the British countryside (albeit in a slight time-warp). A pleasant afternoon well spent.
"To be honest, I've always been a bookworm. So I've turned my love of books into a design career that I enjoy."
A book designer, Arati has always enjoyed books and the world of imagination that they open up. She is extremely accident-prone, due entirely to absent-mindedness caused by thinking about books and their contents, instead of paying attention to what she's actually supposed to be doing. She reads multiple books simultaneously, and her choices range from cookbooks and design manuals to fantasy, crime and Regency romances.
She lives and works in London, UK and sells her art on paper and textiles at
Etsy
Latest posts by Arati Devasher (see all)