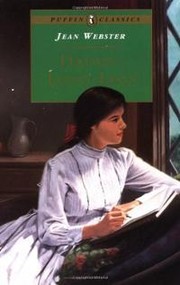 Links: WorldCat • LibraryThing • Google Books • BookFinder
I've long been a fan of the epistolary style of writing, and one of the first books I ever read that hooked me onto it, was Daddy Long-Legs. Apart from its similarities to story-lines by Montgomery and Alcott, its simplicity of writing style and well-built characters draw the reader in. It's the clarity and charm of their writing that makes this book a classic must-read.
Jerusha Abbot is an orphan, sponsored by a Patron of the John Grier home, where she has grown up, to go to college to learn to be a writer. She must repay his generosity by writing to him on a regular basis, without knowing his identity – she refers to him as Mr John Smith, and nicknames him 'Daddy Long-Legs'; his elongated shadow as he leaves the home supplies the inspiration for this, as it is the only glimpse of him she has had.
Jerusha revels in her studies, finds friends and freedom, and matures into a lovely young lady, whom we get to know through her beguiling letters to the unknown Patron. There's a charming love story thrown in as well, and without revealing more than I should, it ends as happily as you want and expect it to.
Books like this one are my favourites to go back to and re-read when I'm feeling nostalgic. It's also one I recommend whenever I can to young children, teens, adults and elders. Classified as 'young adult', it is nevertheless a book for all ages and genders.
"To be honest, I've always been a bookworm. So I've turned my love of books into a design career that I enjoy."
A book designer, Arati has always enjoyed books and the world of imagination that they open up. She is extremely accident-prone, due entirely to absent-mindedness caused by thinking about books and their contents, instead of paying attention to what she's actually supposed to be doing. She reads multiple books simultaneously, and her choices range from cookbooks and design manuals to fantasy, crime and Regency romances.
She lives and works in London, UK and sells her art on paper and textiles at
Etsy
Latest posts by Arati Devasher (see all)