★★★★★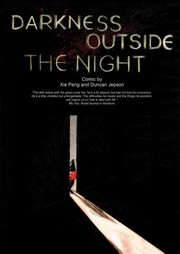 ISBN: 9780956916662
Publisher: Tabella 2012
Pages: 178 Links: WorldCat • LibraryThing • Google Books • BookFinder
Warning: Do not read this graphic novel. I mean that in its literal sense; ignore all the text within this work.
Granted, I have a limited exposure to the graphic novel medium, mostly within the superhero or dark fantasy genres. I appreciate that within many of these, the visual supports and enhances the text in conveying the story, in evoking an emotional response within the reader. However, by the same token, I have never before encountered a story within this medium where the text BEAT YOU OVER THE HEAD TO CONVEY A MESSAGE. Many of the passages within this book boiled down to "look, the world, it is pain, and I who am you is / are alone."
That being said, I cannot recommend this book enough; everyone needs to grab a copy and experience the beautiful, elusive world that Xie Peng has created. The art is some of the most subtle I have seen in a while, the imagery is haunting and has stayed with me since I "read it". Peng's illustrations are both intense and evocative, and as I flicked through the pages I became more and more engrossed in the trials of the "little fellow with the green cone hat." This is a collection of stories that expresses some of the pain, anxiety, frustration, and hopelessness that all of us feel in our lives, and while the work is no doubt informed by the context of modern Chinese society, it is not overpowered by it (full disclosure: I have no first-hand experience of 'modern Chinese society', and speculating based on second and third hand sources). Some of the imagery may seem too simplistic and obvious, but for the most part the simplicity works.
In a rather strange way, Darkness Outside the Night felt like it had flipped works of Khalil Gibran –  The Wanderer in particular – on their head. Within The Wanderer Gibran told a series of short, episodic stories that conveyed a particular message or lesson, his poetry painting a rich canvas for the reader to marvel at. Within Darkness, Peng's images illustrate a series of short, episodic stories that convey emotion, experience. While Gibran's work builds perspective, Peng's focuses on the here-and-now; Gibran the teacher as opposed to Peng the reporter.
In short, try to find a copy of this work, I believe you will not regret doing so. Just don't make the mistake of reading it.
Associate Vice President (Group Finance)
at
Deutsche Bank
"When I was three, there was a cupboard high on the wall in my room, in which were stored over a hundred books and comics - Ali Baba's cave without the financial independence/robber chiefs."

Precarious acts of balance and climbing notwithstanding, Dhruv's passion for reading has continued, though it now encompasses a variety of genres beyond Gimlet and Mandrake. Having recently acquired a Kindle, he is proceeding to re-read many treasured classics, along with "boring" non-fiction titles on lean management and the occasional volume of poetry. When not reading, he can be found working as a process consultant in London, UK, playing golf (badly), or playing Dance Dance Revolution (also badly, but it's amusing for onlookers).
Latest posts by Dhruv Devasher (see all)