★★★★★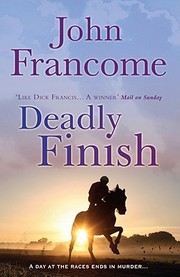 ISBN: 9780755349906
Publisher: Headline 2010
Pages: Links: WorldCat • LibraryThing • Google Books • BookFinder
Young horse trainer Simon Waterford is running the successful yard he inherited from his father, one of his two-year-olds just won the Coventry Stakes at Royal Ascot, and he is engaged to a gorgeous Brazilian girl called Mariana. Mariana, however, is not all she seems to be – and Simon's uncle Geoff knows all about her. He's also told her of his intention to tell Simon everything unless she comes clean first. On the train as they make their way back from Ascot, Mariana is gawked at and insulted by a couple of ruffians. Simon and Geoff stick up for her, but at the end of it, Geoff is dead and Simon hurt. How convenient for Mariana, you think…. but wait, there's more.
There follows a fairly complex set of events… I won't reveal more here, but what I will say is that having read Dick Francis for many years and being used to his level of intrigue and character building, Francome falls exceedingly flat. I was not interested in any of the characters except Geoff (who dies) and there's a lot of fluff where there should have been substance. He tries to emulate Francis, and falls just a little short. The story was good, but the telling of it was uninspired.
Worth a read, anyhow.
"To be honest, I've always been a bookworm. So I've turned my love of books into a design career that I enjoy."
A book designer, Arati has always enjoyed books and the world of imagination that they open up. She is extremely accident-prone, due entirely to absent-mindedness caused by thinking about books and their contents, instead of paying attention to what she's actually supposed to be doing. She reads multiple books simultaneously, and her choices range from cookbooks and design manuals to fantasy, crime and Regency romances.
She lives and works in London, UK and sells her art on paper and textiles at
Etsy
Latest posts by Arati Devasher (see all)