★★★★★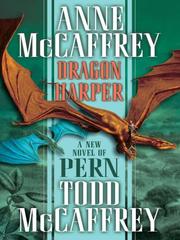 ISBN: 9780345502520
Publisher: Random House Publishing Group 2007
Pages: Links: WorldCat • LibraryThing • Google Books • BookFinder
Writing with her youngest son, Todd, this is another of Anne McCaffrey's Pern titles… Kindan, an apprentice at the Harper Hall, is finding lessons difficult. He has a few friends, but he also has enemies, mainly in the form of a bully – Vaxoram. Life looks up for Kindan after he beats Vaxoram in a duel. Vaxoram must therefore serve him for a set period of time, but gradually becomes a friend. Kindan is then lucky enough to  impresses a fire-lizard, Valla, at whose hatching he meets Koriana. Her parents, the Lord and Lady Holders of Fort Hold disapprove of Kindan, and she returns home with them.
Soon, a deathly plague spreads across Pern, Kindan and his friends are desperate to search the harper records for a cure, but all they can find is mention of a similar plague over a hundred Turns past, and Kindan and Vaxoram go to Fort Hold to help them. Inevitably, he meets Koriana, and the rest of the story is fairly predictable… I won't spoil it for you, because even though it's not one of McCaffrey's best efforts and lacked the heart of some of the books she wrote on her own, it's worth taking the time to read it.
"To be honest, I've always been a bookworm. So I've turned my love of books into a design career that I enjoy."
A book designer, Arati has always enjoyed books and the world of imagination that they open up. She is extremely accident-prone, due entirely to absent-mindedness caused by thinking about books and their contents, instead of paying attention to what she's actually supposed to be doing. She reads multiple books simultaneously, and her choices range from cookbooks and design manuals to fantasy, crime and Regency romances.
She lives and works in London, UK and sells her art on paper and textiles at
Etsy
Latest posts by Arati Devasher (see all)