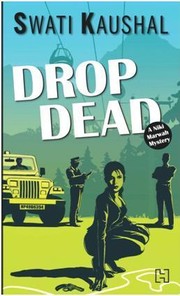 Links: WorldCat • LibraryThing • Google Books • BookFinder
Western crime fiction has a rich history of female detectives, starting with Nancy Drew, and running the gamut of personalities, from the tough-as-nails Kinsey Milhone (Sue Grafton) to the woolly-but-sharp Jane Marple (Agatha Christie). In general though, Indian Writing in English (IWE) doesn't have quite such a long history of the murder mystery novel and an even shorter list of female investigators.
SP (Superintendent of Police) Niki Marwah steps up (in 3-inch leather heels, mind you) to fill that gap.In this first of what is intended to be a series, we are introduced to SP Marwah, Superintendint of Police in idyllic Shimla. When a hotshot and much reviled CEO is found dead at the bottom of a hill, Marwah and her team have to work quickly to sift through a resortful of suspects.
To say any more might reveal too much of the plot, so I'll just say that motives abound, apart from adulterous lipstick stains, suspicious debris in swimming pools and notebooks filled with code. Marwah is everything a female investigator should be – feisty, sassy and fashion-conscious. If this were to be made into a movie, Priyanka Chopra would play Niki (in fact, Priyanka Chopra is mentioned a couple times through the book, so maybe that's where I'm getting the mental picture from). Given her age, of course her family is desperate that she meet a nice punjabi boy and settle down, and some comic element is introduced through these hapless, and often hirsute, suitors.
The story has some weaknesses in plotting and character – don't expect Christie/ Rex Stout type of twists and cunning time manipulation; and many of the suspects are portrayed as stereotypes almost to the point of caricature – but as a whole the book makes for a great, fun read. The peppy exchanges between Marwah and her team, her relationship with her outspoken, brand-conscious Dadi, and the author's occasional bursts of brilliance in character description all pull the book together. I'm looking forward to reading more about the adventures of SP Marwah, and of course tracking her romantic exploits.
"I'm a confessed bookaholic, but haven't had the nerve (or ingenuity) to make a career out of that. So I do the next best thing - I spend my free time reading, buying, borrowing and discussing books... and books about books."

Maya always has three books going at the same time - a different book for every mood. She loves exploring new authors, but every now and then she sinks back into the comfort of old favourites like murder mysteries and Regency romances. A corporate butterfly, Maya lives and works in Bangalore, India.
Latest posts by Maya Chandrasekaran (see all)