★★★★★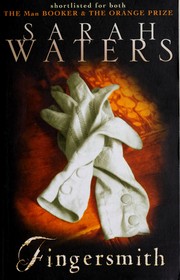 ISBN: 1860498833
Publisher: Virago 2003
Pages: 548 Links: WorldCat • Read Online • LibraryThing • Google Books • BookFinder
It's Charles Dicken's London, and orphan Sue Trinder, is brought up in a den of thieves by Mrs Sucksby, den mother to the 'fingersmiths'. Sue thinks she leads a privileged life, seeing as she is the only one of the babies Mrs Sucksby has never sold. One day, her life and world is invaded by a smooth, suave conman, aptly named Gentleman. Gentleman tells them of a grand scheme he has concocted to swindle a young heiress, Maud, out of her inheritance. He plans on introducing Sue into the house as Maud's maid. Sue is to gain Maud's confidence, and persuade her to elope with her drawing master, Gentleman. They will then leave Maud in a lunatic asylum and split her wealth. (Don't worry, I'm not giving away the entire plot!) After some deliberation, Sue agrees to collaborate with him, and although she and Maud develop a strong and unusual affection for each other, she follows through on the plan.
It is at this point that author throws in a riveting twist in the tale, and the novel fractures into the separate but connected stories of Maud and Sue, as each of them undergoes tribulations, perilous escapes and uncovers insights (not always welcome) about their identities. To say anymore would really ruin the novel for readers, so I'll leave it at that.
The book feels almost like a cross between Daphne du Maurier – with its dangerous, dark characters, and strong female protagonists – and Dickens – exposing the seamy underbelly of 19th century London.
There are no scenes of explicit violence, but the underlying tone of menace and madness lend the story a real edge.
I picked up the book because I'd read another novel by the same author (more on that later) and I wasn't disappointed. Again, like my last post, this wasn't always an easy read (my next review will definitely be of something lighter hearted!) but it's a rich, involved, satisfying story, and I couldn't put it down until I reached the denouement.
"I'm a confessed bookaholic, but haven't had the nerve (or ingenuity) to make a career out of that. So I do the next best thing - I spend my free time reading, buying, borrowing and discussing books... and books about books."

Maya always has three books going at the same time - a different book for every mood. She loves exploring new authors, but every now and then she sinks back into the comfort of old favourites like murder mysteries and Regency romances. A corporate butterfly, Maya lives and works in Bangalore, India.
Latest posts by Maya Chandrasekaran (see all)