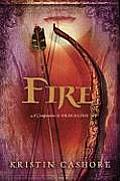 Links: WorldCat • Read Online • LibraryThing • Google Books • BookFinder
A young adult book. From the 'Teens' section of the library. Hmmn. Not entirely sure it belongs there. There was definitely sexual concepts that were NOT teen-friendly, and because it was classified as 'young adult fiction' they were a bit fuzzed over, and didn't fit very well in the context. It has a fair amount of 'casual sex' that rings slightly hollow. The characters around the protagonist needed to be fleshed out more. And one of the characters, Leck, who appears in the first chapter never reappears until almost the end of the book… a bit wasted, I thought. I found out later that he's a main character in the book Graceling, to which Fire is the prequel, and which I have not read.
I liked Fire herself as a character, but I felt that she needed to be a little less shy and retiring and a little more confident. Another case of the wilting heroine who suddenly finds it in her to be a heroine. She's supposed to be 19, but behaves more like 28 or 30. She wants to be a mother. And most 19-year-olds… er, don't? The "human monster" conveys a sense of ugliness and cruelty, but monsters in this world are beautiful and beguiling… but also want to eat you. I do wish Cashore had thought up another name for them.
Brigan is also a well thought out character, and though he hates Fire (because of her father's actions – explained in the book), their relationship-direction was too obvious – at least to those of us who read a fair amount of romantic junk, aka Mills & Boon romances.
One thing I did want to see more of, was politics and intrigue – there's a hint of it, but having read the Farseer Trilogy by Robin Hobb, Cashore doesn't take it quite far enough and it falls flat. Perhaps that's another reason why this should be re-edited for an adult market rather than young adult.
I like the world and the characters, but am not sure whether I'm enamoured enough of the blurb for Graceling to read it. Let's see. Fire is worth a read, however.
"To be honest, I've always been a bookworm. So I've turned my love of books into a design career that I enjoy."
A book designer, Arati has always enjoyed books and the world of imagination that they open up. She is extremely accident-prone, due entirely to absent-mindedness caused by thinking about books and their contents, instead of paying attention to what she's actually supposed to be doing. She reads multiple books simultaneously, and her choices range from cookbooks and design manuals to fantasy, crime and Regency romances.
She lives and works in London, UK and sells her art on paper and textiles at
Etsy
Latest posts by Arati Devasher (see all)