★★★★★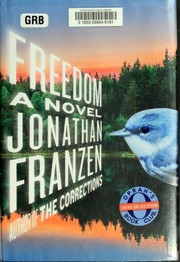 ISBN: 9780374158460
Publisher: Farrar, Straus and Giroux 2010
Pages: Links: WorldCat • Read Online • LibraryThing • Google Books • BookFinder
Freedom is an epic family saga of a modern American family . It is a novel about today's family and society, the picture is not always flattering or pleasant. At its centre are husband and father Walter Berglund an environmentalist, a proponent of zero population growth; wife and mother Patty an ex-athlete who is struggling with her attraction for her husband's best friend; their son Joey a Republican in a Liberal family who is trying to cash in on the war in Iraq; daughter Jessica probably the most sensible member of the family.
Everyone in the family is afflicted by disappointment. Patty is disappointed with her struggle to remain faithful to her good husband and several dysfunctional relationships; Walter a devoted conservationist is forced to compromise with the energy companies he despises; Joey is embroiled in an unethical business deal and Jessica tries often to fix her family's problems.
Freedom is certainly one of the central themes of the novel. All the characters have freedom but are struggling to find out how to live. All the characters are leading unexamined lives with no attention to consequence or ethical/moral values and drifting along without direction. America is at war in Iraq, trying to make Iraqis "free" but that isn't working out as planned either. My take away on the topic of Freedom in the novel was that Freedom should make you happy but it will do so only if you use it well.
Freedom does not mean acting as you please, treating others as you wish, it comes with responsibility and our lives will be as good as the choices we make. In light of everything that has happened in the last few years in the financial industry and in Corporations, one may be tempted to examine if humans are even capable of handling unlimited freedom with responsibility. In the time of our grandparents, individual freedom was supervised by family, community, church. Today those controls have fallen away. That leaves us with only one control – an internal moral compass and one only needs to read the newspaper or watch news to know that this is an unreliable control system!
Another theme of the novel seems to be the author's commentary on how we live these days – often without awareness, without thinking of the consequences of our actions, amid a host of conflict driven relationships, without defined life-goals……………….and we are looking for happiness??
Franzen addresses almost every big issue that looms on our horizon today – dysfunctional families, sexual promiscuity, unethical business deals, excessive consumerism, disregard for the environment.
This is a large rambling novel. I found the first half of the novel difficult to read with its tedious, sometimes dull conversations between the characters. Not one character seemed inspired. All of them seemed self absorbed and directionless. But I enjoyed the second half of the novel and liked the end of the novel very much. Some of the characters are not developed enough e.g. Jessica I wish the author had included some inspired characters since they do still exist in real life. Their absence in the novel makes it discouraging.
If you have the time for a 562 page novel and the patience to read through the novel till it picks up halfway through the book, Freedom's themes will make for excellent book club discussions.
"Books have entertained me, kept me company, taught me, counselled me, introduced me to wonderful people... what else can one ask of a best friend?"

Geetha`s love of books began when she was a child. She later turned that love into formal education with a Masters in English Literature and then again into a career for a few years, teaching English at Ethiraj and Fergusson Colleges in India. Though her career took her into the computer industry, Geetha has continued to read both individually as well as part of a book club in Newmarket, Canada where she lives.
Latest posts by Geetha Kulkarni (see all)