★★★★★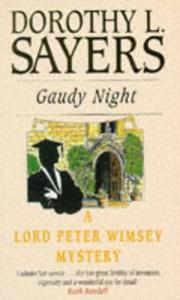 ISBN: 9780450021541
Publisher: New English Library Ltd 1987
Pages: 576 Links: WorldCat • LibraryThing • Google Books • BookFinder
And in what looks to now be a series on women detectives in murder mysteries, this times post is based on Gaudy Night, Dorothy Sayers penultimate murder mystery in her Peter Wimsey series. I suppose technically, it shouldn't be categorized as a mystery with a woman detective – Lord Peter does appear in the last third of the book and assist in the solving of the mystery – but much of the story is revealed through Harriet Vane and her investigations, so I'm adding it in all the same.
The novel begins with Harriet Vane driving back to her Alma Mater, Shrewsbury College (Oxford) to attend Gaudy Night. Harriet is going at the invitation of the Dean, as well as one of her close college friends. Nevertheless, she is wrought with nerves. Since leaving Oxford she has attained some notoriety – she's become a murder mystery writer, lived in sin with a man, has been accused of and then exonerated of murdering her lover, and then been romantically pursued by the same man who got her exonerated of murder, Lord Peter Wimsey. She is, understandably, wary of her reception among old classmates and teachers, but is pleasantly surprised to be affectionately received.
While at Oxford, Harriet receives a venomous poison pen note, but assuming this to be part and parcel of her new notoriety, she throws it away and thinks nothing more of the incident. Until, that is, 6 months later, when she receives a summons for help from the Dean of the college. Apparently the college has been plagued by vitriolic hate notes and incidents, and they need help finding the culprit. Additionally, it needs to be done as quietly as possible – women's education at Oxford is still in its infancy and the scandal could cause reputational problems for all the academics there. Under the guise of assisting with academic research, Harriet moves back to Shrewsbury, and is plunged into a full-fledged investigation. Ultimately a crisis situation builds up – a student is persuaded to attempt suicide, and Harriet herself is viciously attacked.. and that's about all I can reveal without telling too much of the story.
Obviously, Lord Peter Wimsey joins her at Shrewsbury eventually, and the perpetrator is revealed and taken care off, but the book is intriguing for much more than just its mystery aspect. It provides an interesting commentary on academic life, especially for female academics who fought so hard to be recognized as equals, Harriet Vane's own reflections on marriage and its 'effects' on an independent-minded female, and some sneak peaks into the workings of a mystery writers mind, through Ms Vane.
The story is a gripping, quick read, despite the language and style being somewhat more literary than that of the average thriller, and the characters are richly developed. To be honest, there isn't even a real murder in this book – rather, a few attempted murders – but it's a great psychological thriller all the same. One of Sayers' better novels and well worth the read!
"I'm a confessed bookaholic, but haven't had the nerve (or ingenuity) to make a career out of that. So I do the next best thing - I spend my free time reading, buying, borrowing and discussing books... and books about books."

Maya always has three books going at the same time - a different book for every mood. She loves exploring new authors, but every now and then she sinks back into the comfort of old favourites like murder mysteries and Regency romances. A corporate butterfly, Maya lives and works in Bangalore, India.
Latest posts by Maya Chandrasekaran (see all)