★★★★★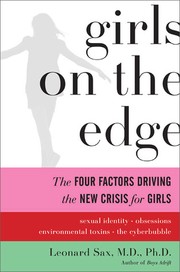 ISBN: 9780465015610
Publisher: Basic Books 2010
Pages: Links: WorldCat • LibraryThing • Google Books • BookFinder
Girls today have far greater opportunities than their grandmothers had and therefore they have every chance for a very fulfilling life, one in which they can attain their potential. Yet, more girls are "on the edge", why? Leonard Sax explores the possible reasons why our young daughters are not as happy and adjusted as we want them to be.
Could it be the early sexualisation of girls? Could it be technology which keeps them connected 24*7 to their friends preventing them from being connected to their true selves? Is it because technology like social media is forcing them to present themselves as others want to see them rather than as they are? Could it be the toxins in their food, hair products and creams?
The author discusses all of these topics in detail, backed by research and then provides us with practical strategies for parenting a girl, to help her develop into her authentic self, to become the woman she is meant to be and to be a happy, well adjusted member of her family and society.
I was surprised when this book was suggested for our book club. I started reading it with a great deal of skepticism as it was different from the kind of books we normally read – typically literary fiction. However I enjoyed the book and would go so far as to say that it is a Must Read for parents of daughters and anyone (grandparents, uncles, aunts, and teachers) who has the opportunity to participate in the raising of a girl.
The book also gets the reader thinking about current culture and lifestyle. Are we forming real relationships? Are we living authentic lives? Has our life become a performance meant always to please and stay popular? Have we lost that sense of community in which a young girl forged relationships with so many people of varying ages? This is a very good book. I highly recommend it.
"Books have entertained me, kept me company, taught me, counselled me, introduced me to wonderful people... what else can one ask of a best friend?"

Geetha`s love of books began when she was a child. She later turned that love into formal education with a Masters in English Literature and then again into a career for a few years, teaching English at Ethiraj and Fergusson Colleges in India. Though her career took her into the computer industry, Geetha has continued to read both individually as well as part of a book club in Newmarket, Canada where she lives.
Latest posts by Geetha Kulkarni (see all)