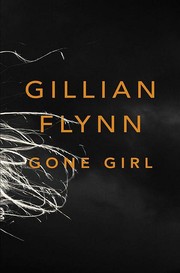 Links: WorldCat • LibraryThing • Google Books • BookFinder
The 'He said-She said' literary technique is not new in fiction writing, but Gillian Flynn's Gone Girl treats double-sided narrative in new and interesting ways.
Amy and Nick Dunne have the traditional meet-cute, and after a romantic courtship and wedding, make plans for their perfect, Manhattan life together, ordering Chinese take-out at 2am and doing drinks at trendy little bars.
The plummeting economy changes all that, and both lose their jobs. Simultaneously, Nick's mother is diagnosed with terminal cancer, and he decides to uproot his Manhattan-bred wife to move to his hometown in Missouri. Two years later Amy suddenly disappears on their fifth anniversary, leaving behind a living room full of shattered glass, and a treasure hunt of verbal clues.
Told in the present, by Nick Dunne, and in the past by Amy Elliot Dunne's diary entries, the narrative toggles between the two very distinct perspectives, and the reader is left with some clues, but also a lot of questions. How did the relationship degenerate to this point? And why does Nick have a disposable phone that he keeps making calls on? Nick, the quintessential American golden boy, clearly has a few dark secrets, but did he also kill his beautiful wife? Both Amy and Nick emerge as flawed, fascinating characters.
Without revealing too many spoilers, Amy is a female protagonist from the Lisbeth Sanders school of action – she simultaneously invites our sympathy and shock. Flynn's prose is sharp and restrained, her descriptions of both settings and characters wryly insightful, and her control over the narrative is masterful – at no point does the suspense flag.
Gone Girl is a page-turner and works both as a psychological thriller and a depiction of the downward spiral of a marriage. The book is a commentary on media in America and portrays a dystopian post-recession Mid-America, where unemployed housewives donate blood to make extra cash and gangs of violent, homeless men living in an abandoned mall. I raced through to the book to the chilling end, and am now in search of other, equally gripping reading.
"I'm a confessed bookaholic, but haven't had the nerve (or ingenuity) to make a career out of that. So I do the next best thing - I spend my free time reading, buying, borrowing and discussing books... and books about books."

Maya always has three books going at the same time - a different book for every mood. She loves exploring new authors, but every now and then she sinks back into the comfort of old favourites like murder mysteries and Regency romances. A corporate butterfly, Maya lives and works in Bangalore, India.
Latest posts by Maya Chandrasekaran (see all)