★★★★★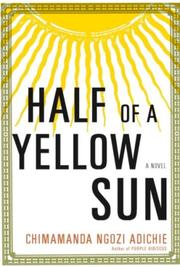 ISBN: 9780676978124
Publisher: Knopf Canada 2006
Pages: 448 Links: WorldCat • LibraryThing • Google Books • BookFinder
I was introduced to Chimamanda Adichie a few years ago, and I've been a die hard fan ever since. It's a little difficult being a fan of someone who's only written 2 novels and a collection of short stories, because you go through those so quickly, and find yourself always waiting impatiently for her to get to the next one!
But enough of that – on to the story.
The book is told from the point of view of Ugwu, a village boy who moves to the city and becomes the houseboy of Odenigbo, a university professor and intellectual. Very soon Ugwu's territory is invaded by Odenigbo's girlfriend, beautiful, London educated Olanna. Olanna comes with her own baggage – her sometimes estranged twin sister Kainene, and her English lover Richard. Eventually the various family members make their peace with each other and settle into a domesticity of sorts.
Four years on, this intellectual, domestic scene is shattered by the ethnic differences between the Hausa and Igbo tribes, culminating in the creation of the Biafra state (whose emblem was half a yellow sun). Olanna, Odenigbo, their baby and Ugwu are forced to flee to a refuge camp, enduring all the horrors of war, violence and deprivation along the way. There are also clear undertones of conflict between the Olanna and Odenigbo and Kainene and Richard, along with revelations of infidelity.
The characters are beautifully portrayed in this novel, as the novelist describes how war upends all their dynamics. Adichie's prose is powerful, visual and poignant. Granted, it's not an easy read at all, but at the same time Adichie touches on the atrocities of war quite matter-of-factly. Despite being a story about a horrifying time, filled with violence and conflict, the writing is so exuberant, you can't help but be drawn in and hooked.
"I'm a confessed bookaholic, but haven't had the nerve (or ingenuity) to make a career out of that. So I do the next best thing - I spend my free time reading, buying, borrowing and discussing books... and books about books."

Maya always has three books going at the same time - a different book for every mood. She loves exploring new authors, but every now and then she sinks back into the comfort of old favourites like murder mysteries and Regency romances. A corporate butterfly, Maya lives and works in Bangalore, India.
Latest posts by Maya Chandrasekaran (see all)