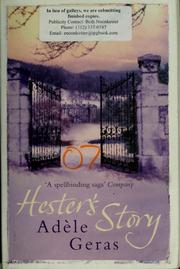 Links: WorldCat • Read Online • LibraryThing • Google Books • BookFinder
Hester's Story is a charming tale, simply told. The story follows young Estelle through her life as a young girl in France and then on to her new life in England as an almost-orphan living with relatives, and her career as a ballerina.
Simple as it is, it would give away a great deal to say any more than I have already. Underlying the entire text is the 'secret' that the woman/ballerina/heroine who is the focus of the story is hiding, mentioned in the back blurb, and tangibly present in each word the author has written. It's a real page-turner this book, and I finished it in one sitting. I just couldn't bear to put it down.
Each character is beautifully drawn. Realistic. Believable. And amazingly all of them strike a chord within me, I identify characteristics of my own with each of their personalities. It's very rare for that to happen to me, as I am usually a pretty unbiased reader, and don't always get emotionally involved with characters in this sort of novel. Even the places are so vividly described, it feels like you are there in the flesh.
Told through flashbacks, the book was incredibly well put together and edited beautifully as well. The writing is simple but effective, and the ending turned out to be fairly predictable – I loved it none the less for all that.
I just Wiki-ed her, and apparently this was her first book for adults, and now that I know that (after having read the book), the writing style makes more sense. Definitely one to look out for… got to go and hunt out her other books from the library now!
"To be honest, I've always been a bookworm. So I've turned my love of books into a design career that I enjoy."
A book designer, Arati has always enjoyed books and the world of imagination that they open up. She is extremely accident-prone, due entirely to absent-mindedness caused by thinking about books and their contents, instead of paying attention to what she's actually supposed to be doing. She reads multiple books simultaneously, and her choices range from cookbooks and design manuals to fantasy, crime and Regency romances.
She lives and works in London, UK and sells her art on paper and textiles at
Etsy
Latest posts by Arati Devasher (see all)