★★★★★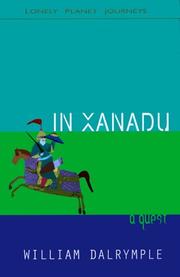 ISBN: 9781864501735
Publisher: Lonely Planet Publications 2000
Pages: 319 Links: WorldCat • LibraryThing • Google Books • BookFinder
I'm crazy about books and passionate about travel, so it stands to reason that travelogues are a favourite genre. In Xanadu is one of those books that I keep going back to every few years to re-read.
At 22, William Dalrymple decided to document his journey from Jerusalem to Shangdu or Xanadu, the famed palace of Kubla Khan. He was essentially retracing Marco Polo's journey, many centuries earlier. The journey took 4 months, on various forms of transport, and with two, very different female companions.
Over the course of the journey, Dalrymple cuts through great swathes of some of the most interesting geographies in the world – Middle East, Pakistan and of course China.
Travel writing is a difficult genre to do well. The writer needs to be wary of sounding like a tour guide with a day to day itinerary, steer clear of the cliches, and find ways to interest the increasingly jaded world traveller. In Xanadu manages to accomplish all of these.
Granted, Dalrymple makes it easier on himself by choosing the road less travelled (as opposed to say Tuscany or even 'exotic' India), but he still manages to punctuate travel with history, politics and enough wry humour, to make the book easy and insightful. This was Dalrymple's first book, and in some ways that becomes very obvious in the language – he's just in the process of discovering his own style.
But very frankly, there's something very endearing about the youthful tone and of course, Dalrymple's voice before he became so lionised, and, shall we say, aware of his own talents! I especially loved the fact that when Dalrymple is having a terrible time, he tells the readers so very frankly. So much other travel writing rhapsodizes the locations that it becomes tediously monotonous.
Ultimately, as with most travelogues, the book is not so much about the final destination as the journey in between. A great book for the adventurous, the footloose and the armchair traveller.
"I'm a confessed bookaholic, but haven't had the nerve (or ingenuity) to make a career out of that. So I do the next best thing - I spend my free time reading, buying, borrowing and discussing books... and books about books."

Maya always has three books going at the same time - a different book for every mood. She loves exploring new authors, but every now and then she sinks back into the comfort of old favourites like murder mysteries and Regency romances. A corporate butterfly, Maya lives and works in Bangalore, India.
Latest posts by Maya Chandrasekaran (see all)