★★★★★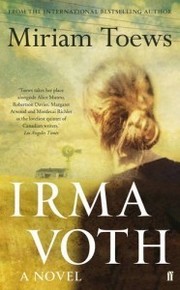 ISBN: 9780062070180
Publisher: HarperCollins 2011
Pages: Links: WorldCat • Read Online • LibraryThing • Google Books • BookFinder
Irma Voth by Miriam Toews is set in a Mennonite Community in Mexico. The story centers around Irma, a Mennonite teenager and her family who have moved from Canada to Mexico. For the first 150 pages of the book the narrative meanders and does not seem to be going anywhere. At this point none of the characters are clearly drawn, no one seems to have a clear purpose and the story does not seem to be progressing but hang in there and you will be rewarded with a great story and a dramatic revelation.
Long after reading the last page, the reader is left thinking about Irma's young life, its struggles, its disappointments and its regrets but also her strength, her courage and her resourcefulness. You think about the struggles in Mennonite families between their world with its strict rules and the free, sometimes promiscuous world outside. This clash of cultures has the potential to lead to conflict, cruelty and even violence. This same struggle takes place to some degree in native and in immigrant homes. It is the clash between the culture the parent wants to establish in the home and the teenagers' rebellion against it. Unfortunately the story ends with Irma taking all the blame for what happens to her family and I found that disappointing. Miriam Toews' prose is simple but powerful. I felt some characters in the book were not developed enough e.g. the mother. Inspite of the overall sad plot of the book there is humour.
The book is a quick read and even though I wondered in the beginning if this book was going to be worth completing, I am glad I read it.
"Books have entertained me, kept me company, taught me, counselled me, introduced me to wonderful people... what else can one ask of a best friend?"

Geetha`s love of books began when she was a child. She later turned that love into formal education with a Masters in English Literature and then again into a career for a few years, teaching English at Ethiraj and Fergusson Colleges in India. Though her career took her into the computer industry, Geetha has continued to read both individually as well as part of a book club in Newmarket, Canada where she lives.
Latest posts by Geetha Kulkarni (see all)