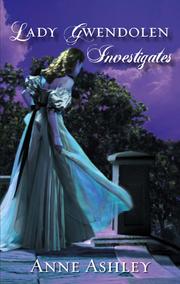 Links: WorldCat • LibraryThing • Google Books • BookFinder
It's not often that I deem a Mills and Boon romance worthy of an actual book review. I read them only when my brain is fuzz, late at night, and I can't handle a plot I'd need to think about or keep up with. I read four pages of this book, and put it down to read when I could actually use my brain.
Because – wonder of wonders – this book is GOOD! Its characters are charmingly drawn, Anne Ashley has actually gone to the trouble of researching that period of history, and save for a few very very minor 'Mills and Boon type issues' it's a very good read. Very similar in style to Georgette Heyer, whom I love. A jolly good surprise.
Lady Gwendolen is a young widow who comes back to live on her late husband's estate for the first time, after spending her short married life jaunting about with him. She's got charm, beauty, wit, and a sense of humour. Something not a lot of romantic heroines have. In addition, she's smart. Essentially a romantic murder mystery, the story evolves around her return, a few mysterious deaths in a nearby wood, and growing relationships with not only Jocelyn Northbridge (her romantic love interest) but also each and every other person in her life.
It challenged me intellectually (well, in comparison to most books in the same genre, anyway) in terms of solving the crimes, and also charmed my romance-loving heart. An old-fashioned romance. The best kind.
"To be honest, I've always been a bookworm. So I've turned my love of books into a design career that I enjoy."
A book designer, Arati has always enjoyed books and the world of imagination that they open up. She is extremely accident-prone, due entirely to absent-mindedness caused by thinking about books and their contents, instead of paying attention to what she's actually supposed to be doing. She reads multiple books simultaneously, and her choices range from cookbooks and design manuals to fantasy, crime and Regency romances.
She lives and works in London, UK and sells her art on paper and textiles at
Etsy
Latest posts by Arati Devasher (see all)