★★★★★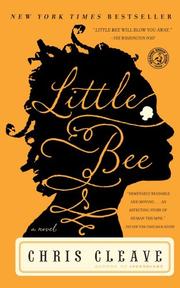 ISBN: 9781416589648
Publisher: Simon & Schuster 2010
Pages: 304 Links: WorldCat • Read Online • LibraryThing • Google Books • BookFinder
Little Bee is a well crafted novel by British author Chris Cleave. The plot keeps the reader constantly engaged as the author unfolds the story gently, giving away no more than a little at a time. The reader is compelled to read on to find out what happens.
Over and above a good plot, the book makes the reader think about the abysmal difference between life in first world and third world countries. In too many countries around the world people are denied basic rights we in the West take for granted and feel entitled to. After reading the book you have a changed view of people seeking refuge, stowaways, and people risking their lives to illegally cross borders. The incidents described in Little Bee could be dismissed as dramatic, if our newspapers did not report similar incidents everyday in several countries around the world. As Little Bee says "when I say I am a refugee, you must understand that there is no refuge." And though she "stowed away in a great steel boat, the horror stowed away inside me."….there is no escape; if you stay you face violence, rape and possible death. If you leave you face deportation to face the same all over again.
Briefly, Little Bee is about a Nigerian girl seeking refuge in the U.K. Her meeting with British couple Andrew and Sarah while they are on vacation in Nigeria changes their lives. A few years later Little Bee comes back into their lives this time in England.
Call it Karma or the accident of birth, the country and family we are born into makes all the difference. As Sarah muses, her problems in the U.K. are small and surmountable – what courses to take in university, whether or not they should build a glasshouse in the backyard. In Little Bee's world she is preoccupied with how best to kill herself "if the men come." "Little girls in your country hide in the gap between the washing machine and the refrigerator and make believe that they are in the jungle with green snakes and monkeys. Me and my sister, we used to hide in the gap in the jungle with green snakes and monkeys all around us and make believe that we had a washing machine and a refrigerator….."
The story is told by two female characters – Sarah and Little Bee. That a male author has such clarity about the minds of his female characters is deserving of mention.
Some of the plot twists in the second half of the novel are not realistic and too convenient. The ending of the book was disappointing and too much like a movie. However overall, it is the kind of book that makes you think about what kind of world we have made for ourselves. The book will encourage discussion about the politics of oil, refugee claimants and their treatment, the choices Andrew and Sarah made, the plight of people in third world countries. Any book that encourages discussion is worth a read.
"Books have entertained me, kept me company, taught me, counselled me, introduced me to wonderful people... what else can one ask of a best friend?"

Geetha`s love of books began when she was a child. She later turned that love into formal education with a Masters in English Literature and then again into a career for a few years, teaching English at Ethiraj and Fergusson Colleges in India. Though her career took her into the computer industry, Geetha has continued to read both individually as well as part of a book club in Newmarket, Canada where she lives.
Latest posts by Geetha Kulkarni (see all)