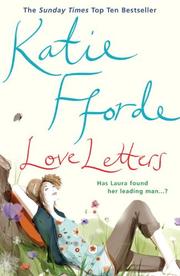 Links: WorldCat • LibraryThing • Google Books • BookFinder
'Can be scoffed at one sitting – tasty!' says Cosmopolitan's review on the back cover of this book. And it's 100% truth. I finished it in one evening.
A lady next to me on the Tube was reading Love Letters with a huge grin on her face. And for anyone to show any sort of emotion on the Tube while reading a book is rare enough to make me want to read what they're reading! So the happy coincidence that this very title happened to be in the window of the charity shop I was passing shortly afterwards had to have been fate.
And yes, I too read the book with a happy smile on my face. It's that kind of book. Not hugely intellectual or with very great depth…. but a charming love story with realistic characters and a great deal of humour.
Laura is a shy girl, content with her job at a bookstore and organising literary events for it. But the shop is about to close, and she'll be out of work within a few months. So when a literary agent tells her she might have something of interest, she ought to take it seriously. One thing leads to another, and in the spirit of making a literary festival a success, she's drafted to go to Ireland and bring back a reluctant author – who just happens to be her literary idol. Needless to say, he's also very attractive.
Some may say that this is a predictable story, but whatever! I enjoyed it, and I'm going looking for more Katie Fforde so I can have some more relaxing evenings with a happy book. So should you!
"To be honest, I've always been a bookworm. So I've turned my love of books into a design career that I enjoy."
A book designer, Arati has always enjoyed books and the world of imagination that they open up. She is extremely accident-prone, due entirely to absent-mindedness caused by thinking about books and their contents, instead of paying attention to what she's actually supposed to be doing. She reads multiple books simultaneously, and her choices range from cookbooks and design manuals to fantasy, crime and Regency romances.
She lives and works in London, UK and sells her art on paper and textiles at
Etsy
Latest posts by Arati Devasher (see all)