★★★★★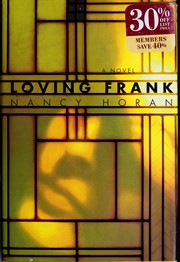 ISBN: 9780345494993
Publisher: Ballantine Books 2007
Pages: Links: WorldCat • Read Online • LibraryThing • Google Books • BookFinder
As Frank Lloyd Wright's star was rising on the architectural horizon in the Chicago suburb of Oak Park, he fell in love with the wife of one of his clients, Mamah Borthwick Cheney. Mamah, after a tumultuous affair with Frank Lloyd Wright moved in with him, leaving husband and two young children. She had chosen "her womanhood over her wifehood and motherhood" a choice which in the early 1900s would have evoked nothing but scorn and criticism. Nancy Horan's "Loving Frank" is the fictionalized version of the love affair of Frank Lloyd Wright and Mamah Borthwick Cheney and their years together. In telling their story, Horan also covers the architect's work as well as the social history of the times.
Wright 's personality, his charisma and genius on the one side, his large ego, impulsive nature, irresponsible spending habits on the other are well documented through the eyes of his lover Mamah Borthwick. As we read, we are exposed to major events in Frank Lloyd Wright's life, his sojourn in Europe and later in Japan, his building of the Oak Park homes, Taliesin in Wisconsin and the Chicago Midway.
We are also educated in his architectural principles. Frank Lloyd Wright dismissed the imported European styles of architecture that had been used thus far by Americans. He developed a style unique to the physical, social and spiritual needs of Americans. He became known for his prairie style buildings and later for organic style edifices. His inspiration and muse was nature. He believed that a building must grow from the landscape and land. The geometry, materials and design of the building must be integrated with the land it stood on. He considered man to be part of nature. Man's dwelling he felt must arise from and blend with the landscape around him. "Every landscape has its own latent poetry. Let the contours of the land and the plants reveal to you the geometry of its soul" pg 168. He believed that architecture must express the spirit of the place. "I'd rather look at a pine tree for inspiration" he said "It teaches me more about architecture than all the marble of St. Peter's. A pine tree speaks to my soul". He built his home "Taliesin" in Wisconsin, a building where "shelter and nature were fused" pg 212.
The book also documents the social history of the times. The women's movement is underway. Women are joining the workforce, they are fighting for the vote, for equal pay for equal work, for personal freedom. We are introduced to the Swedish feminist Ellen Keys whose work Mamah Borthwick translated. An extra marital affair gives rise to extreme hostility in the community, it is the subject of vicious articles and headlines in the press, it is mentioned as part of sermons on Sunday's in the church, children are removed from the school where the architect's aunts teach, Frank Wright loses contracts on account of his love life, the couple is ostracized and isolated. To us today all this seems like overreaction but such were those times.
Mamah Borthwick was a scholar and intellectual; she had a master's degree and spoke several languages. The reader is apt to look upon her abandonment of her children unkindly but if divorce was better accepted in the society of the time, she would have done what many couples do today – had a responsible involvement in her children's lives with joint custody. When we curtail people's personal freedoms they are forced to make poor decisions that hurt others and neglect responsibility. I can imagine that many readers would disagree with me on this point. Overall I liked Mamah. She was a good influence on Wright, often taming him and courageously pointing out his follies. The author portrays her as a woman of sensitivity, fairness and compassion. In the novel, it is Mamah who captures the reader's imagination more than her famous lover. I felt however that she paid a very hefty price for "Loving Frank"; she lost access to her children, her sister, she bore the torment of the press and society in general, she lived without friends. She gave up everything for this one love. She had my sympathy.
The pace of the novel drags in the middle. Other than that one criticism I enjoyed the book. It will force me to explore Frank Lloyd Wright's work in greater detail. It makes me aware that the social freedom's we women enjoy today are due to the efforts of women who came before us and fought for those rights and sometimes paid a great price.
"Books have entertained me, kept me company, taught me, counselled me, introduced me to wonderful people... what else can one ask of a best friend?"

Geetha`s love of books began when she was a child. She later turned that love into formal education with a Masters in English Literature and then again into a career for a few years, teaching English at Ethiraj and Fergusson Colleges in India. Though her career took her into the computer industry, Geetha has continued to read both individually as well as part of a book club in Newmarket, Canada where she lives.
Latest posts by Geetha Kulkarni (see all)