★★★★★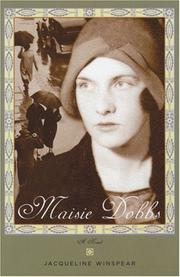 ISBN: 1569473307
Publisher: Soho 2003
Pages: 294 Links: WorldCat • LibraryThing • Google Books • BookFinder
There's nothing quite as exciting as thinking you've discovered your next big favourite author. I'd heard about Maise Dobbs and when I sent away to get it, I was all set to sink in over a weekend.
Set in 1920s Britain, soon after the Great War (before they knew of course, that was going to another, Great War in less than 2 decades) the story is about the eponymous Maisie Dobbs, previously a housemaid, whom fortune favours with the attention of Lady Rowan, an activist aristocrat. Soon, Maisie is getting special tutorials from Lady Rowan's erudite pyschologist friend, Maurice Blanche, and is accepted into Cambridge. After the war, Maisie takes on Maurice's profession, and sets herself up as a private investigator.
The book is broken into three parts – 1920s London, when Maisie sets up her investigative practice and accepts her first case; 1913 – 1919, as a flashback, describing her discovery by Lady Rowan and subsequent rise in the world, followed by her immersion into nursing during the war; and finally back to the present, for the culmination of the mystery.
Part Upstairs Downstairs, part Alexander McCall Smith and part Agatha Christie, with a little love story thrown in for good measure, the book moves along at a good pace and is an easy enough read. My biggest gripe with the writing though was the sometimes flat characterisation – the cook is irascible but loving, the aristocrat is cool but with a heart of gold, Maisie's father is idealistic and humble, and so on. And this laziness in characterisation is mirrored sometimes in the peppering of cliches that Winspear slides into. I would have liked a bit more balance to the characters, and maybe more analysis of class consciousness in England at the time, or its crumbling as a result of the war. Sadly, Winspear touches very briefly on these, and then veers away almost immediately.
Is it my next big favourite author/ series? Unfortunately, I don't think so. The first book atleast, had a few flaws, and Maisie didn't come across as a living, tangible, relatable person – she seemed too virtuous, and mostly seemed to be channeling other people's thoughts and ideas. Having said that, I thought it was an interesting read, and I might be tempted at some point to give the second in the series a shot.
"I'm a confessed bookaholic, but haven't had the nerve (or ingenuity) to make a career out of that. So I do the next best thing - I spend my free time reading, buying, borrowing and discussing books... and books about books."

Maya always has three books going at the same time - a different book for every mood. She loves exploring new authors, but every now and then she sinks back into the comfort of old favourites like murder mysteries and Regency romances. A corporate butterfly, Maya lives and works in Bangalore, India.
Latest posts by Maya Chandrasekaran (see all)