★★★★★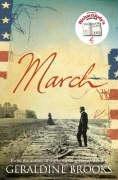 ISBN: 9780007165872
Publisher: Penguin USA 2006
Pages: 304 Links: WorldCat • LibraryThing • Google Books • BookFinder
For those of us who read and enjoyed as teenagers, Louisa May Alcott's beloved classic Little Women, Geraldine Brooks' March will be a nostalgic journey. In Little Women we are told that the father Mr. March has gone off to fight in the civil war. This novel tells the father's story, the story of Mr. March and his experiences in the civil war. Not only is the book a good story but there is plenty of history woven into it. All of Geraldine Brooks' novels that I have read are set against a historical background; they are well written while also providing lessons in history.
Unlike a text book on the civil war, in this novel the reader has a perspective of slavery and the civil war through the eyes of the characters in the book. One sees the human cost of slavery and war at the level of an individual – the intelligent slave child not allowed to learn to read, husband and wife, parent and child separated by being sold, the horrific living conditions. There is the moral question of slavery but then there is the everyday human cost. Nor did all Union soldiers go to war out of noble intent. Some of them harboured the same racist views as the southerners. When the slaves in a plantation were freed, their lives did not improve considerably as the plantation was run by northern entrepreneurs looking to make money. The former slaves continued to be overworked and continued to live under poor living conditions.  In the character of Mr. Clements the reader is exposed to the rationale behind slavery – that the black man is inferior to the white and therefore it is the white man's duty to "civilize" the black man even if that meant punishing him "for his own good" with the lash. Slavery, Colonization….same logic (or should I say ill-logic!….we will teach them how to live, there is no better way to live than MY way)
Louisa May Alcott's father, Bronson Alcott was Geraldine Brooks' inspiration for the character of Mr. March. Louisa May Alcott's father lived in Concord. Among his friends were Ralph Waldo Emerson and Henry David Thoreau. Bronson Alcott depleted his family's wealth in a utopian communal experiment called Fruitland much like Peter March loses his money helping John Brown in the novel. Mr. March is shown not in the ideal light in which his daughters and wife place the absentee father in Little Women but rather as human and fallible. His wife Marmee likewise displays human emotions and failings and is not the almost perfect wife and mother we met in Little Women.  In fact, Marmee in March is not a very likeable character; it is Grace who wins the reader's sympathy and admiration.
March is a combination of research on the Civil War (Geraldine Brook's husband Tony Horowitz did extensive research on the civil war and wrote "Conderates in the Attic") and her own lively imagination.  I found the idea for the book clever and fascinating. The book has some very interesting characters, richly drawn – Grace, Ethan Canning, Zannah to name a few.
March won the 2006 Pulitzer for fiction. If you enjoy historical fiction and even more so if you have read Little Women then March is a book for you to read.
"Books have entertained me, kept me company, taught me, counselled me, introduced me to wonderful people... what else can one ask of a best friend?"

Geetha`s love of books began when she was a child. She later turned that love into formal education with a Masters in English Literature and then again into a career for a few years, teaching English at Ethiraj and Fergusson Colleges in India. Though her career took her into the computer industry, Geetha has continued to read both individually as well as part of a book club in Newmarket, Canada where she lives.
Latest posts by Geetha Kulkarni (see all)