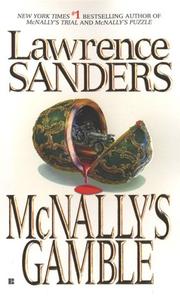 Links: WorldCat • Read Online • LibraryThing • Google Books • BookFinder
Lawrence Sanders rates as one of my all-time favourite detective story writers. The entire McNally canon just oozes with all the things that makes a good crime pot-boiler – dastardly and clever crime, beautiful women, and a wonderfully authentic urban setting. Glamour, glitz, girls and gore, in other words. What makes the McNally books special though, is the fact that they are narrated in the first person through perhaps the most lovable (male) idiosyncratic detective of all time, the one and only Archy McNally. Unlike other great first person detective stories, it's not told through the amanuensis (Captain Hastings and Archie Goodwin being the prime examples of that particular style) but through the detective, and it's part of what makes the entire McNally canon such a uniquely terrific read, along with his truly wicked sense of humour. You cannot help but falling for Archy, after beguiling you with his charm he'll astound you with his cleverness. And make you chuckle, grin, occasionally hoot and raise an eyebrow or two along the way.
The McNally series is set in Palm Beach, Florida, where Archy McNally, bon vivant, charming cassanova, and general gadfly-about-town resides. He's similar to Dorothy Sayers's Lord Peter Wimsey, in that he conceals a clever and if need be ruthless deductive intelligence behind a facade of affable facetiousness. Unlike Wimsey, however, Archy is far more susceptible to the charms of the more beguiling sex, despite having a terrific paramour in one Consuela Garcia, (whom I would describe as the sort of woman string bikinis were designed for) to whom he is repeatedly unfaithful, which he admits quite candidly and blames on having seen Jane Seymour in a certain role at an impressionable age. He has a few other amusing excuses for his infidelity, but I can't remember them off-hand, unfortunately. Anyway, he works for McNally and Son, his father's somewhat unimaginatively titled law firm. Archy isn't a lawyer himself, having been expelled from Yale for streaking naked across the stage wearing a Richard Nixon mask during a concert performance, so instead bears the official title of paralegal. His real job, however, is heading a division named 'Discreet Inquiries', of which he is the sole member, and investigating those cases which his father deems worthy of special tact and discretion in their handling. This review will now get into the specifics of McNally's Gamble. Feel free to click on read more if you like, but the quicker you start on the series, the happier you'll be.
In McNally's Gamble Archy is directed by his concerned and worried father to investigate one of his oldest clients, a formidable, if somewhat gullible matron named Edith Westmore, who wants to buy a Faberge egg being sold to her for half a million dollars by a possibly unscrupulous investment consultant named Frank Clemens, who's already sold her shares in a tin mine in Bolivia and a silver factory in Peru. Yes, a Faberge egg, you know, those wonderful novelty creations of the great Carl Faberge, jeweller extraordinare to the elite of pre-Bolshevik Russian aristocracy, patronized by no less than the Czar and his family. Faberge eggs are fascinating in and of themselves, have a look here, it's pretty cool stuff.
Anyways, so Archy starts off his inquiries by consulting a down-and-out antiques dealer about the history and provenance of Faberge eggs. Eventually, this leads him into a tangle of murder, mystery, and a fair amount of mayhem, involving his clients kooky children – Walter the paleontologist and Natalie the artist -, who are concerned that their mother might blow their inheritance on the Faberge egg; his faithful if somewhat scatterbrained amanuensis Binky Watrous, a thug named Felix Katz, and, of course, an imperial Faberge egg of Nicholas II. I'll leave it at that, the plot is clever if somewhat predictable, but the story itself is excellently told by a great master of the art of detective fiction writing. In fact, I'd go as far as rating Sanders in my top five favourites, along with Agatha Christie, Rex Stout, and a couple of others I haven't decided on as yet. Well, Dorothy Sayers and Janet Evanovich, probably.
McNally's Gamble happens to be my personal favourite, but the others – McNally's Caper, McNally's Risk, McNally's Luck, McNally's Secret and others – are super as well. However, lector caveat, after Lawrence Sanders journeyed to crime-writer Valhalla, the McNally series was taken over posthomously by one Vincent Lardo. Lardo's own books are supposed to be pretty good in their own right, apparently, and while they might well be, his McNally novels are terrible. So check to see who wrote it before you buy it. I think McNally's Secret was the first in the series, and would be a good place to start, if you're chronologically minded. It isn't essential to read them in order, though, unlike Janet Evanovich's Stephanie Plum series, which I will also try to subsequently review. Until then though, get on to Amazon or Flipkart or pop down to your nearest bookshop to pick up any of the McNally books. I guarantee you won't be disappointed.
"Bibliophilia, or more realistically Bookaholism runs in my genetic make-up. I've grown up being read to, reading, and surrounded by books."

From Bangalore but based primarily in New Delhi, India, Samir has variously been and continues to be a professional musician, a pub quiz host, a political campaign aide, and a student of the guitar, as well as history and international relations. He is currently Research Director for the Global Security Centre in India. He is also a freelance editor and research consultant, having worked for the Ministry of Overseas Indian Affairs, the Public Health Foundation of India, and a McKinsey-IBM KPO, as well as Random House and Oxford University Press. He can be contacted at samirkrishnamurti@gmail.com
Latest posts by Samir Krishnamurti (see all)