★★★★★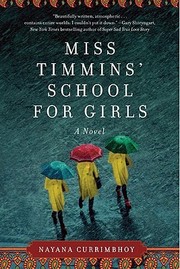 ISBN: 9780061997747
Publisher: Harper 2011
Pages: 496 Links: WorldCat • Read Online • LibraryThing • Google Books • BookFinder
The reader of Malory Towers or the Chalet School series might be a little put out on first reading "Miss Timmins" – this isn't the world of midnight feasts and girlish high jinks involving leaky fountain pens.
Set in 1974 Panchgini, in the hills of Maharashtra, Miss Timmins' School for Girls is certainly a throwback to colonial times, but the students are now Indian upper middle class and the staff comprises of Anglo-Indians, holding strong to their British antecedents and accents.
Into this world comes naif, Charulata Apte, recent college graduate, escaping her family's mysterious scandal. The story opens with Charulata's perspective, as she tremulously, and somewhat ambivalently (she would much rather be in Bombay, wearing bell bottoms) negotiates this world of professional and social hierarchies. Very early on she finds herself oddly drawn to another young teacher, Miss Moira Prince, a young Englishwoman encumbered with a secret (one which becomes increasingly obvious with every description of her). Through "the Prince's" frienship, Charulata is introduced to a world of weed, rock music and sexual awakening.
At this point, though, the novel changes in tenor – one morning a body is found at the base of a cliff and murder brings chaos to the school. Here the narrative shifts and the murder investigation is taken on by a gang of intrepid school girls, leading to some scandalous revelations and ultimately the discovery of the murderer. Currimbhoy excels at shifting the tone and perspective of the novel and keeping the pace tight by throwing in revelations and twists, but to my mind, the section told by the schoolgirls is the weakest of the book.
Charulata is the primary protagonist, and yet she remains intriguing and somewhat oblique till the end, her emotions most clearly displayed by the mysterious blemish on her face.
While the author has a real knack for creating evocative atmosphere and snidely depicting social snobbery, I found the murder mystery aspect of the book somewhat less compelling. Erratic in quality and sometimes scattered because of the plethora of characters and multiplicity of genres – murder mystery, coming-of-age novel, social commentary, Sapphic love story – Miss Timmins works best as a novel about the coming-of-age of young Ms Apte in a forgotten part of Maharashtra. Despite its somewhat patchy quality in parts, I found it an enjoyable read. This is one of those books I would lend to a friend so that we could then discuss it together.
"I'm a confessed bookaholic, but haven't had the nerve (or ingenuity) to make a career out of that. So I do the next best thing - I spend my free time reading, buying, borrowing and discussing books... and books about books."

Maya always has three books going at the same time - a different book for every mood. She loves exploring new authors, but every now and then she sinks back into the comfort of old favourites like murder mysteries and Regency romances. A corporate butterfly, Maya lives and works in Bangalore, India.
Latest posts by Maya Chandrasekaran (see all)