★★★★★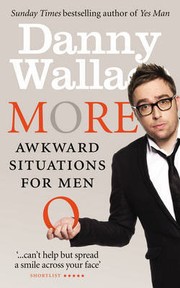 ISBN: 9780091941307
Publisher: Ebury Press 2011
Pages: 280 Links: WorldCat • LibraryThing • Google Books • BookFinder
More Awkward Situations For Men is a collection of short stories by one of Britain's best and newest young writiers. Wallace is also a fairly well-known TV and radio show presenter for the BBC. His shows tend to be quirky, slightly off the edge stuff, but they're always clever and very funny. He's the one who decided to start his own country, invented the idea of the Karma Army (where you do a random act of kindess for a total stranger every Friday) and most recently, became famous as The Yes Man, which is also a book, and one of the funniest I've ever read. Quite a bit more than this one, in fact. I'll get around to reviewing that next, but since I just finished More Awkward Situations For Men on a flight back home, I thought I'd review it while it's still fresh, so to speak.
More Awkward Situations For Men is essentially a collection of little vignettes from Wallace's weekly column that he writes for Shortlist magazine. Most of them revolve around the tribulations of being newly married with an infant, with a few others involving embarrassing moments with friends or total strangers. Some of the funniest anecdotes in the book come from moments with his wife, or his friend Colin, particularly the one where the latter moves into a nursery. While this book didn't make me laugh as often as Yes Man did, it definitely has a good many snort-coffee-through-your-nose moments. A few of the stories particularly stand out. There's the continuing one with a certain Mr. Barker, a handyman who visits them to put up shelves. Danny calls him Mr. Barker, but Mr. Barker calls him Danny! This annoys him no end, since he feels like he's been deliberately relegated to a position of less-than-appropriate respect. Then there's the situation of when to hug and when not to; the embarrassing moment when a stranger sits down next to you on a park bench and you wonder whether or not you're supposed to start a conversation; his wife's kindergarten-like drawing of the new cupboard they want, and many others. One of my favourites was the one where the person in front of you in the ATM lines turns around and tells you the machine's not working. Do you take him/her at their word? Or do you wait till they leave and surreptitiously try and use your own?
Of course, one of the obvious criticisms of this book is how contrived some of the situations are. Does it take a genius to turn ordinary mundane events into something entertainingly readable? Not really. This sort of 'A Day In The Life Of.' style of writing, though, is something Wallace does well, and he recommends that this book be read in short doses, which is probably a good idea, since a few chapters in it gets, if not exactly predictable, into something of a monotone. More Awkward Situations For Men is a mostly entertaining read, but if you're going to pick up any of his books, Yes Man is by far and away the best and funniest.
"Bibliophilia, or more realistically Bookaholism runs in my genetic make-up. I've grown up being read to, reading, and surrounded by books."

From Bangalore but based primarily in New Delhi, India, Samir has variously been and continues to be a professional musician, a pub quiz host, a political campaign aide, and a student of the guitar, as well as history and international relations. He is currently Research Director for the Global Security Centre in India. He is also a freelance editor and research consultant, having worked for the Ministry of Overseas Indian Affairs, the Public Health Foundation of India, and a McKinsey-IBM KPO, as well as Random House and Oxford University Press. He can be contacted at samirkrishnamurti@gmail.com
Latest posts by Samir Krishnamurti (see all)