★★★★★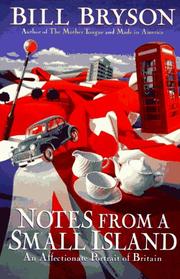 ISBN: 0688147259
Publisher: Morrow 1996
Pages: 324 Links: WorldCat • Read Online • LibraryThing • Google Books • BookFinder
Notes From a Small Island is Bill Bryson's account of his time spent working, for a variety of newspapers, and travelling on holiday around the United Kingdom, well, England mostly. There are few more entertaining travel writers than Bryson. He combines the observational skills of a Theroux with the biting, dry wit of a Wilde or a Carlton to create his distinctive, easy-reading style.
The book is a good example of the American fascination with all things British. Familiar yet alien, Bryson is at pains to retain his American-silly approach framed in an elegantly British vocabulary when travelling around the UK, to Pinhead, Sheepshocks, Ham Hocks and others. He takes a wonderfully child-like delight in that which he enjoys, but sometimes reading his constant, good-natured grumbling is more fun.
Perhaps the main attraction to Bryson's travelogue is his weaving together of chronologically distinct periods, overlaid with experiences in the same place 20 years apart. It's an interesting perspective on ignorance; Bryson's unfamiliarity with the British turns into a mixture between love and exasperation as he immerses himself in travelling through England. The main appeal, as always, is his attention to detail. There's no doubt that this is the characteristic that brings people back to his books over and over again. Occasionally though, this can get annoying, particularly his over-zealous condemnation of the service he receives most places he goes. Still. it makes for entertaining reading, even if it smacks of the typical "Ugly American", willing to enjoy England for jollies but intolerant of its shortcomings. Most reviews on Amazon, presumably by Americans, point this out as a criticism.
As he enters England and aims to travel around the entire country in a few weeks, he gets more and more stretched for time, especially given his willingness to happily kill time in tiny little resteraunts, museums, tea-places, and gift-shops he comes across. Whether in Wales, metropolitan and countryside England, or the Highlands of Scotland, he finds everything interesting, comment-worthy, and entertaining on many levels, which he successfully communicates to the reader. Highly recommended for a rainy afternoon of armchair travelling. I don't recommend reading this at work or on the move. Constantly laughing is irritating for those around you who aren't having such a good time.
"Bibliophilia, or more realistically Bookaholism runs in my genetic make-up. I've grown up being read to, reading, and surrounded by books."

From Bangalore but based primarily in New Delhi, India, Samir has variously been and continues to be a professional musician, a pub quiz host, a political campaign aide, and a student of the guitar, as well as history and international relations. He is currently Research Director for the Global Security Centre in India. He is also a freelance editor and research consultant, having worked for the Ministry of Overseas Indian Affairs, the Public Health Foundation of India, and a McKinsey-IBM KPO, as well as Random House and Oxford University Press. He can be contacted at samirkrishnamurti@gmail.com
Latest posts by Samir Krishnamurti (see all)