★★★★★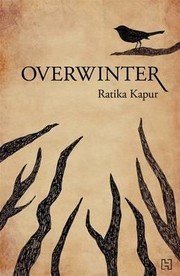 ISBN: 9789350092637
Publisher: Hachette India 2012
Pages: 248 Links: WorldCat • LibraryThing • Google Books • BookFinder
To overwinter is to pass or wait out the winter conditions. In this debut novel by Ratika Kapur, Ketaki seems to be passing through a winter of grief and personal limbo.
When we are first introduced to Ketaki, she is caressing, almost fondling, the body of her comatose uncle, and my immediate worry was that this would be one of those deeply disturbing novels of dysfunction. Rest assured. Yes, it is dysfunctional, and often sad, but it isn't as disturbing as the opening would suggest.
Ketaki lives in the South Delhi world of privilege, where women wear pearls every day, men play golf and bearers brings chilled bottles of award-winning wines. But it is also a world of dark undertones and buried secrets. As she comes to terms with the gradual loss of the most important man in her life, her maternal aunt's husband, Ketaki swings from one dis-satisfactory relationship to another, unable to find that balance between purely platonic and purely sexual. Her world is then thrown into complete disarray when her father comes visiting from New York and decides to tell her about a deep, dark family secret.
Kapur generally manages to capture conversation very naturally (something that doesn't always happen in Indian writing in English).
There are lapses, though, when some conversations don't completely ring true, especially some of the more philosophical ones between Ketaki and her friend, Adil. Some characters, also, never fully emerge – Ketaki's father Vikram is one of those enigmatic people who show up at repeated intervals in the story and are essential to driving the plot, but somehow I never quite understood his feelings and motivations.
And more importantly, one thing that never emerges is what makes Ketaki who she is. Why is she so asocial in Delhi? What makes her dysfunctional and so volatile in her relationships with men? These are existing characteristics, even before the big scandalous revelation, so clearly they can't be the sole cause.
Despite these weaknesses, though, Kapur is an assured, measured writer – her writing is taut and intelligent - and captures the milieu well. According to the book blurb, she's working on a second novel as we speak – definitely one to look out for!
"I'm a confessed bookaholic, but haven't had the nerve (or ingenuity) to make a career out of that. So I do the next best thing - I spend my free time reading, buying, borrowing and discussing books... and books about books."

Maya always has three books going at the same time - a different book for every mood. She loves exploring new authors, but every now and then she sinks back into the comfort of old favourites like murder mysteries and Regency romances. A corporate butterfly, Maya lives and works in Bangalore, India.
Latest posts by Maya Chandrasekaran (see all)