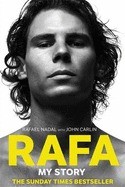 Links: WorldCat • Read Online • LibraryThing • Google Books • BookFinder
Having missed the 2008 Wimbledon final, now considered to be perhaps the greatest tennis match of all time, I was particularly eager to read this book. And sure enough, the two most important moments in the book, which everything else is built up to, are when Nadal finally triumphed over Roger Federer at Wimbledon in 2008, and when, at the age of twenty-four, his win over Djokovic in 2010 made him the youngest player ever to complete the career Grand Slam. The tennis world now has a third great in Novak Djokovic, and Nadal himself mentions in the book that when asked on a flight in 2008 back to Mallorca from Barcelona if there were any threats out there to himself and Federer, his unhesitating answer was Novak 'Nole' Djokovic. There's no doubt that this three-way rivalry is going to dominate the next decade of the Men's ATP Tour. But that's getting ahead of the story. Let's begin where we should, with the journey of a young man from the third-largest town on a Spanish island known for its tourism and precious little else to the dizzying heights of becoming arguably not only the greatest tennis player in the world, but one of the greatest athletic competitors the world has ever known.
It's a question I've rarely asked myself, we all love watching professional athletes perform at the heights of their powers, seeming almost super-human in their abilities, and tennis is a particularly good example of that, but how do they reach those heights? What sort of training must they go through, what kind of experiences must they grow through to reach the pinnacle of their professions? In fact, Nadal could quite easily have become a professional footballer, playing for Mallorca Football Club, and it is with a fair amount of regret that he chooses tennis instead. In Nadal's case, it becomes pretty clear that his uncle Toni was the major driving force behind his rise. To say that Toni was a hard taskmaster would be a severe understatement. After his first Grand Slam victory, at the tender age of 19, his uncle didn't congratulate him, instead leaving a note saying he'd been fortunate to win and listing everything he'd need to improve. He also treated him with quite the opposite of favoritism, and while Nadal often expresses gratitude to his uncle in his story, it's also quite clear that there's a fair amount of resentment there as well for the way he was treated, particularly as a child. Nadal's naturally right-handed, but it's his uncle's insistence on playing left-handed to give him a competitive edge. Of course, it's hardly difficult to argue with a regimen produced the results it did, no matter how harsh it was. Lacking the pure natural talent of a Federer (whom he calls, with the greatest of respect, one of those extraordinary freaks of nature) Nadal turned himself (or was turned, according to his uncle) through constant, unremitting practice and training into a ferociously customized tennis machine. Grit was his diet, and adversity his fuel. His tenacity and commitment have been the highlights of his professional career, and is what sets him apart as a unique force in contemporary tennis. That's what makes him such a demonstrative player on court, his fist-pumps and constant vocalizations, he really plays with his heart on his (Nike branded) sleeve.
The book is written in collaboration with John Carlin, a Barcelona-based senior international writer for one of the large Spanish newspapers, El Pais. Every chapter contains two parts; one as seen through Nadal's eyes and one seen through Carlin's, and that's what makes it interesting if a bit disjointed. The part through Nadal's eyes is totally centered around the Wimbledon final with Federer, while the others deal more with his personal life, and his family and friends. Nadal's parts are very exacting in their detail, often with stroke-by-stroke rallies, and his description of the joy he felt when he pulled off a particularly blinding winner, or the despair and anger when he fluffs. Most of it is of the 2008 Wimbledon final, and if you're a tennis fan, it makes for fascinating reading.
In the off-court parts of Rafa: My Story, Nadal comes across as a self-effacing, extremely humble and unassuming young man, with a very close-knit circle of family and friends, who serve as his team. No fancy hotels and party girls for him; during Wimbledon he and his family rent a small house in London to stay in and his girlfriend, whom he's been with for over six years, is a native Mallorcan as well, with her own career and doesn't just follow Nadal around the world. It's that team which is his bedrock of support, and keeps him firmly grounded as a genuine human being, unlike the professional diva he could have easily become. The fact that he acknowledges John Carlin as a co-author, and not merely as a collaborator illustrates that very well. Of course it gets darker as well. When his parents separate, for example, he's almost totally unable to deal with it, living in complete denial, unlike his sister, who is a much more emotionally stable (not to mention better looking) person. His mother describes him as intently emotional, very insecure, and having real trouble dealing with change. Routine isn't just something fundamental to his life, it is his life. It's these personal details that make it an engaging read, like his fear of darkness and dogs, and that he calls his mother two or three times when he goes out.
According to other reviewers, what the book lacks is the cocky assertiveness of McEnroe's autobiography, or the somewhat salacious details in Open by Andre Agassi. Not having read those, I can't really offer an opinion. There's also very little in the way of critiquing his fellow tennis giants, instead we get copious detail on the routines Nadal follows religiously to gear himself up for a match. One of the most captivating parts of the book for me was the difference between the way Federer and Nadal behave in the changing room leading up to the match. I won't give it away here, but it's that sort of detail that makes Rafa: My Story a compelling read. If you're a tennis fan, pick it up. If you're a Nadal fan, you should have it already. It's an uplifting, often captivating story, and is a terrific motivational book about the drive to excellence.
"Bibliophilia, or more realistically Bookaholism runs in my genetic make-up. I've grown up being read to, reading, and surrounded by books."

From Bangalore but based primarily in New Delhi, India, Samir has variously been and continues to be a professional musician, a pub quiz host, a political campaign aide, and a student of the guitar, as well as history and international relations. He is currently Research Director for the Global Security Centre in India. He is also a freelance editor and research consultant, having worked for the Ministry of Overseas Indian Affairs, the Public Health Foundation of India, and a McKinsey-IBM KPO, as well as Random House and Oxford University Press. He can be contacted at samirkrishnamurti@gmail.com
Latest posts by Samir Krishnamurti (see all)