★★★★★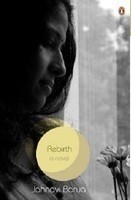 ISBN: 9780143414551
Publisher: Penguin Books 2010
Pages: 203 Links: WorldCat • LibraryThing • Google Books • BookFinder
First a bit of a disclaimer – the author, Jahnavi, is a friend of mine. I've tried my best not to let that influence the tone of this review, however.
Rebirth is a monologue from expectant mother, Kaberi, to her unborn child. We are told early on in the book that Ron and Kaberi's marriage has deteriorated to such an extent that he has moved out and is living with some other woman. Kaberi continues to live in their old flat, slowly preparing her life for the impending arrival, all the while confident that Ron will return to her shortly. Kaberi shops for cribs, meets friends for coffee (or in her case, green tea) and goes for her doctor's checkups, all the while maintaing her one-sided conversation with the baby. Through Kaberi's words, we learn about her troubled relationship with her husband, Ron (Ranjit), their long struggle to conceive, her friendships, both current and lost, and her attempts to identify that elusive concept – home. Is it native Guwahati, or her home now for 7 years, Bangalore? Is it with Ron, or is it enough for her to have the baby to create a home?
Rebirth comprises a journey into Kaberi's innermost psyche, without being as esoteric and dense as that sounds.
This is a delicate, restrained book. The writing in beautifully subtle, without any big flourishes or melodramatic episodes. Like so much writing by authors from the North-East, there are definite undertones of politics in the descriptions of Assam's turbulence and the way that violence colours every activity of its denizens. At the same time, although set in contemporary Bangalore, the story has a very timeless feel to it. Barua has a great skill for character-sketches – she has the knack for showing rather than telling, and with a few telling phrases, she often paints a vivid portrait in our minds.
Obviously it's not perfect. There are some sections which maybe the book could have done without – I didn't always understand the point of telling us about Kaberi's trip to Kabini, and what we were meant to gain in terms of understanding her or Preetha. Similarly, I felt that Barua's delicacy of touch sometimes deserted her in the descriptions of Ron, who comes across as slightly one sided.
This is a very gentle book, but compelling reading nonetheless – very early in the book the reader develops a sense of empathy with Kaberi and we want to know how her story ends.. or at the very least, how it progresses. Over all, this is the kind of book you start reading on a lazy weekend afternoon, and then can't put down for several hours after.
"I'm a confessed bookaholic, but haven't had the nerve (or ingenuity) to make a career out of that. So I do the next best thing - I spend my free time reading, buying, borrowing and discussing books... and books about books."

Maya always has three books going at the same time - a different book for every mood. She loves exploring new authors, but every now and then she sinks back into the comfort of old favourites like murder mysteries and Regency romances. A corporate butterfly, Maya lives and works in Bangalore, India.
Latest posts by Maya Chandrasekaran (see all)