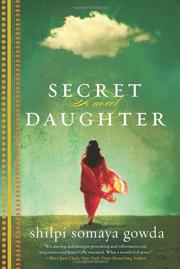 Links: WorldCat • Read Online • LibraryThing • Google Books • BookFinder
A moving, poignant story about three women – Kavita, a mother in rural India who is forced to give her daughter up for adoption to protect her from infanticide, Somer an American doctor unable to bear a child and Asha the daughter Kavita gives up and Somer adopts.
The author does a remarkable job exploring and expressing the emotions these women feel, each struggling with their losses and fears – Kavita racked with guilt and tortured by memories of leaving her crying infant in an orphanage, Somer's suffering over her infertility and later her insecurities as an adoptive mother and Asha's yearning to find her roots and come to terms with the fact that her parents gave her up.
The book is a tribute to mothers everywhere. Besides Somer and Kavita, there are two other strong mothers in the novel – Dadima and Ba. The book is also about family. In today's society in which we have so many kinds of families, the message of "Secret Daughter" is that "at some point the family you create is more important than the family you are born into". Asha goes to India seeking out "one family and ended up discovering another". The book explores social problems like the disregard for female children in India.
The plot is excellent, moves smoothly and keeps the reader riveted. Whereas the female characters in the book are well drawn, the male characters in the book are all but ignored so one may complain that the book does not give all characters fair representation. Men may dismiss the book as chick-lit but when you consider the serious topics the book explores which is part of our lives today, the book is relevant for male and female readers alike. An excellent first novel which I highly recommend.
"Books have entertained me, kept me company, taught me, counselled me, introduced me to wonderful people... what else can one ask of a best friend?"

Geetha`s love of books began when she was a child. She later turned that love into formal education with a Masters in English Literature and then again into a career for a few years, teaching English at Ethiraj and Fergusson Colleges in India. Though her career took her into the computer industry, Geetha has continued to read both individually as well as part of a book club in Newmarket, Canada where she lives.
Latest posts by Geetha Kulkarni (see all)