★★★★★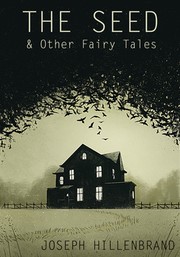 ISBN:
Publisher: Self-Published 2013
Pages: Links: WorldCat • LibraryThing • Google Books • BookFinder
Review requested by Sage's Blog Tours
Quirky, rather macabre fairy tales fill this book of short stories. Grimm indeed, and definitely for mature readers.
The Seed tells of a childhood and coming-of-age, as well as a gruesome renewal of youth.
Unwished is a very random tale, definitely an allegory – but of what I am hard put to tell.
The Girl in the Forest was rather more charming than the rest, and leaves you with something to guess as well.
Two and One is amusing.
Calimire is a pastiche of one of the old traditional fairy tales, but an original take on it.
My All is definitely a cautionary tale.
Hunger Pangs – very short, but the highlight of the collection.
Applebite – a very very very weird story, and I did not at all like the ending. I won't spoil it for you, the stories are short after all.
Sand Castles is about many things, a fitting end to the anthology, and it leaves you thinking, but again with a rather abrupt ending.
The stories are each illustrated with one image, by different artists. The potent imagery within the text itself makes these redundant and they take away from the stories themselves. I read the book on Kindle, and the formatting, as usual, was abysmal. I am a book designer. This offends me – do something about this, Amazon!
Hillenbrand is obviously a talented fledgeling author. His writing style is basic, the prose simplistic, intentional but not always effective. The imagery is well described and easy to visualise, but the language is often jarring, lacking smoothness and elegance. The book is highly reminiscent of our opinion of Darkness Outside the Night, where the imagery was far more powerful than the superfluous text – in this case the text does not do justice to the concepts and ideas which are clearly original and imaginative.
Worth a read, in any case, but I must end with the note that Hillenbrand would do well to edit and fine-tune – there's a great deal of potential within his words.
"To be honest, I've always been a bookworm. So I've turned my love of books into a design career that I enjoy."
A book designer, Arati has always enjoyed books and the world of imagination that they open up. She is extremely accident-prone, due entirely to absent-mindedness caused by thinking about books and their contents, instead of paying attention to what she's actually supposed to be doing. She reads multiple books simultaneously, and her choices range from cookbooks and design manuals to fantasy, crime and Regency romances.
She lives and works in London, UK and sells her art on paper and textiles at
Etsy
Latest posts by Arati Devasher (see all)