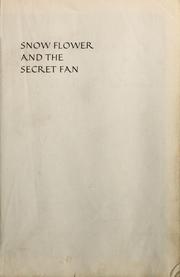 Links: WorldCat • Read Online • LibraryThing • Google Books • BookFinder
Set in Hunan Province in China in the 1800's "Snow Flower and the Secret Fan" is a touching story of friendship between two women beginning in childhood. They are "laotong"; we may call them "soul sisters".  Besides being the story of their lives it is also a study of the society and culture of the times in China.
The plot of the novel is at times slow and the characters could have had greater depth. The most interesting aspect of the book is indeed the social and cultural history it exposes. To be born a girl was to be doomed to a life of little value, confined to the upper chambers, unless you grew up to marry and produce sons. "When a girl, obey your father, as a woman, obey your husband, as a widow, obey your son" – this was the rule of life.  If all of this is repeated often enough, even girls and women buy into the propaganda of their worthlessness and participate in ensuring continuity of the practices. Their lives are all about pleasing others, their mothers, husbands, mothers-in-law, and no part of their life is dedicated to helping them grow or realizing their potential. Gender selection of fetuses continues to be an issue today in several countries.
The gruesome practice of footbinding to produce "golden lilies" seven centimetres long is described in excruciating detail. One of ten girls died of the practice and those who survived the ordeal often were crippled. Women are treated poorly in marriages, with violence and abuse that no one objects to.  They are doomed to live lives of oppression and servitude. You finish the book with gratitude for women's education and laws against unfair treatment of women.
The book explores the nature of friendship, especially the relationship between friends or siblings who are not financial or social equals. Lily's superior position taints her friendship with Snow Flower as she becomes patronizing and judgemental of Snowflower, giving advice instead of listening to her friend, seeking to solve her problems instead of simply being there.
Much light is thrown on the ancient Nu Shu script, an ancient written language that was developed and used exclusively by women to communicate with one another and one that was kept secret from men. The language depended on context, texture, and shades of meaning for its correct interpretation. As we all do too often, interpretation of a person's words without these considerations often leads to misunderstanding as it does for Lily. During the Cultural Revolution in China, Nu Shu was almost eradicated, the Chinese Government is now trying to help the language survive as an important part of China's social history. Despite the weak plot and characterization I would recommend the book for its focus on the social and cultural issues.
"Books have entertained me, kept me company, taught me, counselled me, introduced me to wonderful people... what else can one ask of a best friend?"

Geetha`s love of books began when she was a child. She later turned that love into formal education with a Masters in English Literature and then again into a career for a few years, teaching English at Ethiraj and Fergusson Colleges in India. Though her career took her into the computer industry, Geetha has continued to read both individually as well as part of a book club in Newmarket, Canada where she lives.
Latest posts by Geetha Kulkarni (see all)