★★★★★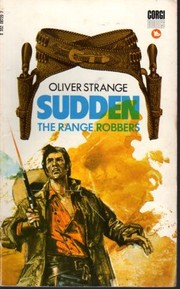 ISBN: 0552117978
Publisher: Corgi 1981
Pages: 222 Links: WorldCat • LibraryThing • Google Books • BookFinder
Having finally read this book after an interminably long wait (even for a seasoned fantasy fan) I had to review it right away. Fifteen years I waited to get my hands on this, and while I can't exactly say it was worth the wait, having finally read it does provide an immense sense of satisfaction. The Sudden books are great reads for a number of reasons. And the secret behind that, primarily, is that Strange hit upon a winning formula. Read a few of the books and you'll see what I mean. Sudden, a.k.a 'James Green of nowhere, no place" comes to a small frontier town in the Wild West (though there's usually a bigger one not too far away) and either takes on the job of Marshall, as directed by Governor Bleke of Arizona, or works with the 'good' ranch owner, or both. The 'good' ranch owner usually either is good-looking, honest and enterprising or has a son, or in some cases, daughter who is, and together they defeat the cattle-rustling, mean spirited, outwardly good-looking but really-dead-inside villain, who could be a ranch-owner, a small-town controller, or even, in one case, a villainous easterner. Villains can be white, half-breeds, and in an occasional sub-plot, Mexicans, a.k.a Greasers. There are a lot of typical racial and misogynist stereotypes, but you'd expect that from spaghetti westerns written in the 1930′s and 40′s.
The Sudden books are great for a number of reasons. Primarily, it's formulaic. It works really well for the simple reason that Strange doesn't push the archetypes too far, while exploiting stereotypes we're comfortable with to the hilt This doesn't exactly lend itself to originality; there's a lot of similarity in the plots from book to book, but the character of Sudden makes up for that. You know what he's going to do – stand up to the bad guys, make a few friends for life, help the guy get the girl, and clean up one of the roughest towns in the Wild West. The Range Robbers is perhaps the most significant of the books because it brings to an end the quest which takes Sudden all over the West. A promise made to a dying man to track down those who had betrayed him utterly, stealing everything he had and leaving him to die. Young as he is, Sudden vows not to stop or rest until the two of them – Webb and Peterson – are brought to justice. In all the other books, when a friend of Sudden plucks up enough courage to satisfy his curiosity by asking him what he was doing, this is the story our hero relates. It ties in with his reputation as an outlaw although he isn't one; he's a deputy sheriff employed by Bleke, the steely Governor of Arizona. Bleke sends Sudden to places outside his jurisdiction which badly need cleaning up.
The entertainment of the books lies in how he goes about it, the way the romance develops, and of course, thwarting the schemes of the assorted bad guys with amazing gun play, witty repartee, and fisticuffs, all of which build up to the final conclusion, which could be a shoot-out at the bad guy's lair, or a trial where Sudden is charged with being Sudden, and then usually turns the table on whomever put him in the dock in the first place. Strange doesn't much like Sheriffs, in most of the books they're usually small, piggy, mean-spirited little men, who bushwhack and ambush people, have only a passing acquaintance with ethics and the law, and are owned by whomever the villain prime happens to be.
There's just something compelling about the Sudden books. Even the later ones, written by Frederick H. Christian, are pretty good, although there are those who would vehemently disagree with me. I'm not a big fan of westerns; Louis L'Amour frankly left me cold, and Jack Schaefer, and Zane Grey were never authors I revisited. The unfortunate thing though, is that unlike these authors the Sudden books are pretty hard to get hold of, particularly The Range Robbers, so feel free to email me if you'd like a copy.
"Bibliophilia, or more realistically Bookaholism runs in my genetic make-up. I've grown up being read to, reading, and surrounded by books."

From Bangalore but based primarily in New Delhi, India, Samir has variously been and continues to be a professional musician, a pub quiz host, a political campaign aide, and a student of the guitar, as well as history and international relations. He is currently Research Director for the Global Security Centre in India. He is also a freelance editor and research consultant, having worked for the Ministry of Overseas Indian Affairs, the Public Health Foundation of India, and a McKinsey-IBM KPO, as well as Random House and Oxford University Press. He can be contacted at samirkrishnamurti@gmail.com
Latest posts by Samir Krishnamurti (see all)