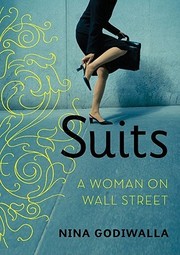 Links: WorldCat • LibraryThing • Google Books • BookFinder
Nina Godiwalla's memoir begins with a scene that is almost cinematic in its description – an eager, naive 19 year old, fresh-of-the-boat from her native Texas, rushes through Manhattan's streets to get to the first day of her internship. Naturally, in a comedy of errors, by the time she gets there, she's covered in grime, sweat and has lost a heel on her shoes. And from that inauspicious beginning, starts Nina Godiwalla's Wall Street career.
Jumping back and forth between growing up in an immigrant Parsi home in Texas and the competitive madhouse that is any Wall Street analyst's life, Godiwalla chronicles her obsession with the world of Manhattan high finance and her first few years working there. As someone who was once in exactly the same place – an overworked, stressed analyst for a bulge bracket bank- I think she manages to capture the excesses, hazing and pressure-cooker atmosphere well. As a non- Ivy league woman, and one of Indian origin at that, Godiwalla is the ultimate outsider and well placed to expose the casual chauvinism and racism that still seems to drive Wall Street, where who you play golf with, or perhaps who you take to a strip club, is far more important than any financial modelling skills you might have.
Part "Devil Wears Prada" and part "Wall Street", Godiwalla adds more to this cautionary tale by weaving in her family background and ambitions – typical of any immigrant family in the US. If Opal Mehta had not gone to Harvard, and had had her heart set on investment banking, she might have been a lot like Nina. In many ways though, Godiwalla's redemption is her very Indian family – her parents, sisters and grandmother in Texas – who provide her a grounding force in the rarified world of expensed champagne dinners and towncars on call.
Godiwalla writes simply and candidly and sometimes with unexpected biting humour. I wouldn't say her style has any great elegance, but she tells her story well. They say that everyone has one book within them, and it remains to be seen if ex-investment banker Godiwalla's next book is as readable, but I certainly found this one a gripping read.
"I'm a confessed bookaholic, but haven't had the nerve (or ingenuity) to make a career out of that. So I do the next best thing - I spend my free time reading, buying, borrowing and discussing books... and books about books."

Maya always has three books going at the same time - a different book for every mood. She loves exploring new authors, but every now and then she sinks back into the comfort of old favourites like murder mysteries and Regency romances. A corporate butterfly, Maya lives and works in Bangalore, India.
Latest posts by Maya Chandrasekaran (see all)