★★★★★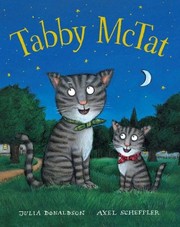 ISBN: 9781407109275
Publisher: Alison Green Books 2010
Pages: 32 Links: WorldCat • LibraryThing • Google Books • BookFinder
I am not often in the way of reviewing a children's book for such young readers that has been written after my own childhood ended. However, when our two-year-old niece came to visit a few months ago, her collection of Julia Donaldson's books was much in evidence, and none more so than Tabby McTat. I must have read this book over a hundred times in the two weeks she stayed. In the morning, the afternoon, the evening and at night. At home, in the car, in the park, and pretty much everywhere else. It was her favourite, and before you ask, yes, I do have it memorised. And the story has stayed with me so much that here I am, reviewing it, four months later!
Unlike many 'kiddie' titles which definitely become entirely too annoying to the adult reading it repetitively, as often as multiple times within a half hour period, Tabby and his rhyming story about his busker did not irritate. Instead, it became a rather fun book to read. The rhyming words make it very easy to read out in a sort of sing-song fashion. The words are easy to speak, and there is no stumbling – it's pretty smooth sailing. Often when it's being read as a bedtime story, that lulls the child to sleep… a very good thing!
Each page is so beautifully illustrated that our niece found something new to point out in each page every single time she read it. She would also engage with the story enough to associate each page with a different rhyme, and in fact ask me to point out the dog hidden in the image, or the bird, in a similar fashion to my own queries.
Reading the book to herself was also a major feature, and since the rhymes are so simple, she had memorised the text on each page even though she is very far from being able to read at all. To the extent that if I flipped a page and spoke the wrong rhyme from memory, she would correct me.
Now, that level of retention and attention to a particular story and its characters is what I find truly remarkable about the book. And in fact, most of Donaldson's books for children seem to have that same quality.
I leave you now with the first page of the story… if you have children in your life, please go buy them this book! You will love it as much as they will.
"To be honest, I've always been a bookworm. So I've turned my love of books into a design career that I enjoy."
A book designer, Arati has always enjoyed books and the world of imagination that they open up. She is extremely accident-prone, due entirely to absent-mindedness caused by thinking about books and their contents, instead of paying attention to what she's actually supposed to be doing. She reads multiple books simultaneously, and her choices range from cookbooks and design manuals to fantasy, crime and Regency romances.
She lives and works in London, UK and sells her art on paper and textiles at
Etsy
Latest posts by Arati Devasher (see all)