★★★★★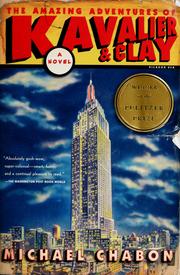 ISBN: 0312282990
Publisher: Picador 2000
Pages: 639 Links: WorldCat • Read Online • LibraryThing • Google Books • BookFinder
In 1939 Josef (Joe) Kavalier escapes Nazi-occupied Prague by hiding inside a box with the Golem of Prague. He goes to New York city, where he meets his cousin Samuel Clayman (Clay) for the first time, and an unlikely but lifelong friendship is born.
Clay, a self confessed New York scrapper, has ambitions of making it big in the world of comics and publishing. Together, Sam with his gift for pulp fiction, and Joe with his clear lines, create a comic-book superhero, the Escapist, who travels the world fighting facism.
So far, so much fun. But there's much more going on behind the surface, obviously. Joe is obsessed with the idea of rescuing his family members from Europe and is fighting the war the only way he can – with pictures and words. Along the way, he meets and falls in love with beautiful Rosa Saks, while Sam, meanwhile, grapples with his own sexual identity. Eventually things come to a head, and Rosa, Sam and Joe are forced to create their own family structure in the best way they know.
To tell anymore would be to reveal too much of the plot. The book is set at a fascinating confluence of history – it is the golden age of comics, when superheroes were a dime a dozen, and at the same time, across the seas, the world was waging its biggest war. Soon after this, America is beset by the paranoia and horrors of Macarthyism and we live through all of these with Joe, Sam and Rosa.
The characters are real and flawed and endearing and so fully imagined that the reader can't help but be invested in their fates, and the novel has just enough scope to be termed epic. Chabon's language is beautiful and much of the joy of reading this enormous story lies in his clear, witty, visual prose. It's no surprise then, that the book won a Pulitzer Prize.
"I'm a confessed bookaholic, but haven't had the nerve (or ingenuity) to make a career out of that. So I do the next best thing - I spend my free time reading, buying, borrowing and discussing books... and books about books."

Maya always has three books going at the same time - a different book for every mood. She loves exploring new authors, but every now and then she sinks back into the comfort of old favourites like murder mysteries and Regency romances. A corporate butterfly, Maya lives and works in Bangalore, India.
Latest posts by Maya Chandrasekaran (see all)