★★★★★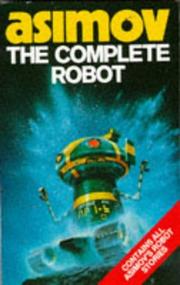 ISBN: 9780586057247
Publisher: Voyager 1983
Pages: 680 Links: WorldCat • Read Online • LibraryThing • Google Books • BookFinder
I have long been a fan of science fiction due in equal measure to the creative freedom it allows authors and the resultant joy to be had as a reader. Given the choice, though, I've always gravitated towards fantasy as my vehicle for escapism, due to a subconscious bias created by the large quantity of good fantasy recommended to me at a young age. It was only a few months ago that I realized that, despite the fondness I have for sci-fi, I have not read the majority of works that form the cornerstone of sci-fi literature. It was with a view to correcting this that I picked up Isaac Asimov's The Complete Robot.
Asimov does not disappoint. This anthology contains thirty-one short stories that he wrote between 1939 and 1977 and each one, as expected, is about robots. Yet this master of the genre, while at times predictable, is in no way boring. Adventure, romance, mystery, drama – you will find all of these things contained within. You will meet lovable characters, both human and robot, you will relish Asimov's flair for plot and logic, devour story after story entertained at every turn and then when you have finished, you will crave more. Asimov's stories in this volume are about all sorts of robots, from computers to androids, glorified abaci to highly sophisticated thinking machines. However, his stories have internal consistency – all these stories take place in the same world, albeit in different places and at different points along a timeline. I found this added to the charm of the anthology since each story furthers one's knowledge of the literary world of Asimov; the reader isn't forced to adjust his or her understanding to a tabula rasa at the beginning of a new story. In fact, my favourite stories were those which featured the same characters – such as ever-logical barely-human Susan Calvin, the Chief Robopsychologist of US Robots or that robo-testing duo renowned for their derring do, Donovan and Powell.
There are only two things about this anthology that irked me. The first was the section-break introductions that Asimov has written that pepper the book. He comes across as completely lacking in humility and a bit full of himself. The second is his undeniable sexism – women in his stories are submissive both in nature and in role, most often appearing as the stereotypical housewife. Even the aforementioned Susan Calvin who appears in quite a few stories, is a reluctant protagonist, handicapped by her gender. Both these flaws can be easily overlooked and it is quite possible that a reader might not even see them as such. Regardless, a great man may be forgiven much and Asimov is clearly a great man.
In closing, I whole-heartedly recommend this book, to fans of the short-story and fans of sci-fi: if you happen to be both, you will be doubly pleased! It is an excellent companion for journeys, particularly short ones; not too heavy to carry along on your daily commute, with stories just the right style and length to be an easy distraction and yet not so engrossing that you miss your stop. This isn't a tumultuous love-affair sort of book that you will sit up reading all night. It is the kind of book that will sit on your bookshelf for life, well-thumbed and dog-eared – a lifetime friend that will be lent, over the years, to many a non-sci-fi reader as an introduction to the genre. This, ultimately, is the greatest success of the book – it is the perfect gateway drug for a lifetime of sci-fi addiction.
National Account Manager
at
Reckitt Benckiser
"I like books, possibly more than I like people - I've certainly known enough of both and though my sample may be skewed, I'm pretty sure the books are winning."

Dhati Subramanyam has been a voracious reader ever since she realised a few things - first, that books are fun, interesting and lovable. Second, that the people in them are even more so. Third, that people will generally leave you alone if you have your nose stuck in one - a book that is, not a person. Dhati's other interests include sales and marketing, videogames, experimental cooking, redheads and Texas hold 'em. She currently lives in Sydney, Australia and really really wishes she had a cat.
Latest posts by Dhati Subramanyam (see all)