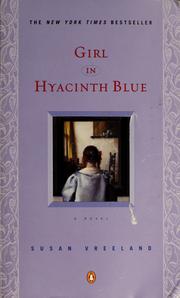 Links: WorldCat • Read Online • LibraryThing • Google Books • BookFinder
The Girl with a Pearl Earring is famous, both as a book and as a movie. Susan Vreeland's debut book, The Girl in Hyacinth Blue is less well known, but having enjoyed 'Pearl Earring..' so much, I was intrigued enough to try it out. The story opens with two college professors looking at a painting. The owner is convinced it's a Vermeer, but is evasive and unwilling to talk of its antecedents. As the story reveals, he is also convinced that the painting is ill gotten loot from his father's days as a low level Nazi official.
Wracked with guilt, he's still enthralled enough not to give up the painting; in fact in his mind, confirming that it is a Vermeer would somehow justify its appropriation by his father. Over the course of the next 7 stories, the author traces the journey of the painting in reverse chronological order, ending with Vermeer itself. The book is not so much a novel as a collection of short stories, set in different time periods, and always connected by the painting. The short stories each portray a little vignette of the life and time of a different owner and Vreeland brings a level of delicacy into each of these little depictions, thereby making each story an independent unit on its own.
On a different level, each story depicts a slightly different way to view art – as a guilty possession, a part of the family, a reminder of a love lost and even an asset for trade into a better life. No matter how they view it, the girl in hyacinth blue stakes an intimiate claim in each owner's heart. As a minor quibble, I was somewhat disappointed, by the way the author didn't end by tying it all together, or distinctly connecting the owners – as varied and spread out as they were – through some novelistic thread. I somehow feel like it could have given the stories a sense of stronger cohesion.
That said, perhaps Vreeland specifically chose to avoid that specific authorial technique, deeming it too pat. And in a tying up of ends of my own, it would be wrong to compare this book with 'Pearl Earring..' because of the very different styles and subject matter. Less overtly passionate than 'Pearl Earring..', this book is equally sensuous in its description of art, and enjoyable in its own manner.
While I wouldn't term the book gripping or compulsive reading, it has a gentle charm to it and is definitely an engaging way to spend an afternoon.
"I'm a confessed bookaholic, but haven't had the nerve (or ingenuity) to make a career out of that. So I do the next best thing - I spend my free time reading, buying, borrowing and discussing books... and books about books."

Maya always has three books going at the same time - a different book for every mood. She loves exploring new authors, but every now and then she sinks back into the comfort of old favourites like murder mysteries and Regency romances. A corporate butterfly, Maya lives and works in Bangalore, India.
Latest posts by Maya Chandrasekaran (see all)