★★★★★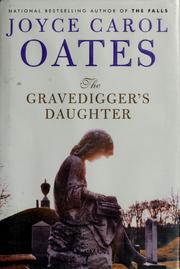 ISBN: 9780061236822
Publisher: Ecco 2007
Pages: 582 Links: WorldCat • Read Online • LibraryThing • Google Books • BookFinder
Joyce Carol Oates's Gravedigger's Daughter is a powerful story. It is not a pleasant book to read given that the main theme of the book is violence and persecution. However, to me the story was about survival. The human instinct for survival is strong and a mother's instinct to fight for the survival of her child is even stronger. One of the main elements required to successfully survive horrendous life experiences is the willingness to leave the past behind.
Jacob Schwart allows himself to become a victim of his past and therefore does not survive whereas Rebecca reinvents her life and consciously leaves her past behind and therefore survives. Some readers will see Rebecca as an opportunist. I saw her as someone who does what she has to in order to cope with a very difficult life.
Another theme covered in the book is the immigrant experience. Jacob Schwart and his family are allowed to immigrate to America. But his manhood and dignity are taken away from him when racism in the new country will give this cultured, math teacher no job but that of gravedigger.
In our society today we have engineers and doctors newly immigrated, driving taxis. How does this situation negatively impact the new immigrant and his family and how therefore does it negatively impact the society he immigrates into? The book raises these important questions.
I recommend this book as a choice for book clubs, it will stimulate plenty of discussion.
"Books have entertained me, kept me company, taught me, counselled me, introduced me to wonderful people... what else can one ask of a best friend?"

Geetha`s love of books began when she was a child. She later turned that love into formal education with a Masters in English Literature and then again into a career for a few years, teaching English at Ethiraj and Fergusson Colleges in India. Though her career took her into the computer industry, Geetha has continued to read both individually as well as part of a book club in Newmarket, Canada where she lives.
Latest posts by Geetha Kulkarni (see all)