★★★★★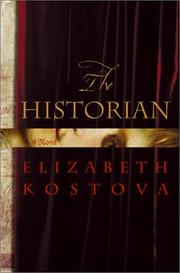 ISBN: 9780751537291
Publisher: Little Brown P/B
Pages: 704 Links: WorldCat • LibraryThing • Google Books • BookFinder
As with so many great adventures, this one begins with the discovery of a book. The narrator of the novel finds an old book with a woodcut dragon inside it, a depiction of Dracula, and is naturally, intrigued. She questions her father, Paul, who reveals that he found this book in his study carrel when he was a graduate student. On taking it to his advisor, Bartholomew Rossi, he was shocked to discover that Prof. Rossi had found a similar book as a student in the 1930s. Prof Rossi confides to Paul that he believes Dracula – Vlad the Impaler – is still alive, and then immediately after, he disappears from his office. It then emerges that Rossi's daughter, Helen, is the narrator's long dead mother. Soon after this revelation, her father disappears too. What follows is an adventure through Europe, Soviet Union and Asia, past and present, superstition and rationality, as everyone goes in search of Dracula.
Kostova elegantly weaves three different narratives through the book – Bartholomew Rossi in the 1930s, Paul in the 1950s and the narrator in the 1970s.
The writing style is vivid and textured, bringing to life even minor characters, and although the book feels a tad long towards the end, the suspense pulls the reader through. The story is part history, part travelogue (though an undoubtedly creepy travelogue) and part gothic horror.
Deeply detailed, gripping with great sinister undertones. There's very little blood and gore (apart from the occasional nip on the neck) but Kostova manages to maintain an atmosphere of tension entirely through suggestion. A vampire book for those too mature to be bothered with Twilights!
"I'm a confessed bookaholic, but haven't had the nerve (or ingenuity) to make a career out of that. So I do the next best thing - I spend my free time reading, buying, borrowing and discussing books... and books about books."

Maya always has three books going at the same time - a different book for every mood. She loves exploring new authors, but every now and then she sinks back into the comfort of old favourites like murder mysteries and Regency romances. A corporate butterfly, Maya lives and works in Bangalore, India.
Latest posts by Maya Chandrasekaran (see all)