★★★★★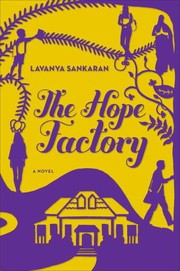 ISBN: 9780385338196
Publisher: Dial Press 2013
Pages: Links: WorldCat • LibraryThing • Google Books • BookFinder
I read Lavanya Sankaran's debut book – a collection of short stories – many years ago, and with great anticipation. Finally an author writing about 'people like us', ordinary middle class professionals, in Bangalore, an Indian city under-represented in IWE. Despite its occasionally erratic quality I was struck at the time by the promise her writing showed and I've been waiting to read more of her work ever since.
It's been over 6 years now, and her first novel, The Hope Factory, is also based in Bangalore and the middle class milieu.
Anand K. Murthy is the young (well, relatively young, though in a country where the average age is 22, he would be considered well middle-aged), upwardly-mobile businessman, well married, with a beautiful, elegant wife, two loveable children and a house supported by a large staff. To outward appearances, he is living the Indian dream. As we get deeper into his life and thoughts, however, it becomes clear that there are deeper, darker issues undermining his relationships and his business.
Interspersed with his story, is that of his domestic help Kamala, and the difficult journey that brings her and her son, Narayan, into his life. Kamala works as a domestic help under Vidya's direction, while aspiring and planning to create a better future for her only son. She lives in a little village-within-the-city – a common feature in a growing metro like Bangalore.
Over the course of the novel we follow their lives through an eventful period of change and growth. While their stories and fates aren't entirely inter-dependent, they certainly are inter-mingled, and the reader goes back and forth between the two worlds.
Sankaran's writing is simple and terse, and largely, she manages to inhabit the very varying worlds of her two main protagonists, speaking their language and reflecting their thoughts. Her strength really lies in character portrayal. The Landbroker (as he is called through the novel) becomes an almost Dickensian character in her capable hands, as does Harry Chinappa, Anand's social climbing Anglophile father-in-law. Sankaran also exhibits a clever, sharp turn of phrase that occasionally has the reader guffaw in surprise – "the HR man's eyes were alight with mad sociological schemes that raised his hair in little black and gray tufts behind his ear," or "Inviting visitors to the country was like bringing friends to a home where alcoholic parents rampaged out of control."
Over all, Sankaran manages to give us a nuanced description of relationships, including that of Anand and his ever-aspiring wife Vidya. The character of Harry Chinappa, however, verges sometimes on caricature and I felt like the author could have spent a little more time building up the character of the enigmatic and fascinating Kavika Iyer.
There are many familiar themes here – Bangalore's (and the country's) rapid and often unplanned growth, the India of yesteryears with its shortages and restricted supplies vs. India of today with it's Dubai-gleaming malls and new watering-holes manned by young people in Converse sneakers, twenty-varieties of everything and uninhibited consumerism- whose depiction has been covered in multiple other books on India and now seem somewhat clichéd.
My other criticism of the novel would be that Sankaran sometimes introduces us to an overwhelming range of characters like the vapid professional son, Sameer Reddy, or Harry and Ruby Chinappa's Richmond Town friends. Many of these characters don't seem to serve any specific purpose in the main plot and are there merely to present certain stereotypes of Bangalore characters.
Like her debut short stories, the writing is somewhat erratic, though it occasionally sparkles in its simplicity. While Sankaran's prose doesn't quite manage the elegant clarity of say Jhumpa Lahiri, The Hope Factory is well worth a read, and I look forward to her next novel.
"I'm a confessed bookaholic, but haven't had the nerve (or ingenuity) to make a career out of that. So I do the next best thing - I spend my free time reading, buying, borrowing and discussing books... and books about books."

Maya always has three books going at the same time - a different book for every mood. She loves exploring new authors, but every now and then she sinks back into the comfort of old favourites like murder mysteries and Regency romances. A corporate butterfly, Maya lives and works in Bangalore, India.
Latest posts by Maya Chandrasekaran (see all)