★★★★★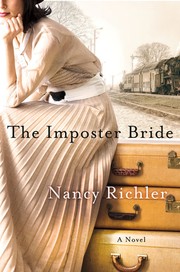 ISBN: 9781250010063
Publisher: St Martin's Press 2013
Pages: Links: WorldCat • Read Online • LibraryThing • Google Books • BookFinder
The Imposter Bride by Nancy Richler is the story of a young Jewish woman who comes to Canada having narrowly escaped the atrocities of the war in Europe. Many such women came to Canada but what makes Lily Azerov different is that she comes under an assumed name, one she stole from a woman who was dead on the streets of Poland.  Within just a few pages of the novel the main action has already taken place. Lily marries Nathan in Montreal, not telling him her story.  They have a little girl Ruth and soon after the birth of the baby Lily walks out on her family, never to return. Much of the story is Ruth's struggle to understand why her mother left her. All she has for clues is the journal of the original Lily Azerov and a rough uncut diamond also taken from the unfortunate woman.
The primary theme of the story is loss. Almost every character in the book has lost some of the basic things we all take for granted, home, country, family, money, and then those intangibles, self respect, a sense of identity, security. These losses colour the rest of their lives. Many cope as best as they can, some sit by the bedside of their children afraid they will lose them, some run away to forget the pain, some stand in front of windows shedding unexplained tears. The novel has a host of characters the reader gets to know well. Ruth and Bella had my sympathy but Lily I found cold. Does suffering oftentimes kill the warmth of our hearts? You would think that someone who had lost all her family would cling to the one blood relative she has, her newborn child. That Lily walked away from the baby I chalked up to her traumatized psyche. What I found somewhat unforgiveable was why Lily tortured the child by sending rocks every few years as if to open the wound each time. I also did not understand why Lily did not stay in touch with Ruth after they met. She had told her new family about Ruth so there was nothing to be lost only everything to be gained by staying connected to Ruth.
The book leaves a lot unsaid and unresolved. Above all, the reader does not get to know or understand one of the main characters of the book, Lily. We do not know what happened to Lily's family in Europe. We are not told the details of how the original Lily died. We can only guess at why Lily left her baby and family or why she sent those rocks. Too much is left vague and one finishes the novel without a sense of complete understanding. The plot has great potential but has not been developed or polished well, much like the diamond in the novel. The book has a strong beginning but fades away as it progresses.  In summary, The Imposter Bride is a novel with great potential but does not deliver.
"Books have entertained me, kept me company, taught me, counselled me, introduced me to wonderful people... what else can one ask of a best friend?"

Geetha`s love of books began when she was a child. She later turned that love into formal education with a Masters in English Literature and then again into a career for a few years, teaching English at Ethiraj and Fergusson Colleges in India. Though her career took her into the computer industry, Geetha has continued to read both individually as well as part of a book club in Newmarket, Canada where she lives.
Latest posts by Geetha Kulkarni (see all)